How To Disable Voice Control On Your iPhone
Although Voice Control can be very useful, a common complaint we often get involves accidental 'pocket' voice dialing. Some people may also find this feature annoying. Therefore, you may want to turn it off.
You can use Voice Control or Siri. Voice Control can be activated by pressing and holding the Home button, only if Siri is turned off. This means that if you are using Siri, you cannot use Voice Control.
Voice Control lets you make phone and FaceTime calls and control music playback by speaking into the phone's built-in microphone.
Here is how to disable Voice Control on your iPhone:
Option # 1
1.The first thing you need to do is to set a passcode. You may have done this before. If you have not already, do this.
If you are using an iPhone 5s or later, go to Settings > Touch ID & Passcode. If you are using a device without Touch ID (e.g., iPhone 4), go to Settings > Passcode
Tap "Turn Passcode On"
Enter a passcode. This passcode is important. Do not forget it. You will now need this passcode when you (a) turn on your device (b) update your device (c) erase your device etc.
2.Now go to Settings > Touch ID & Passcode > and enter your new passcode then tap Voice Dial and disable Voice Dial.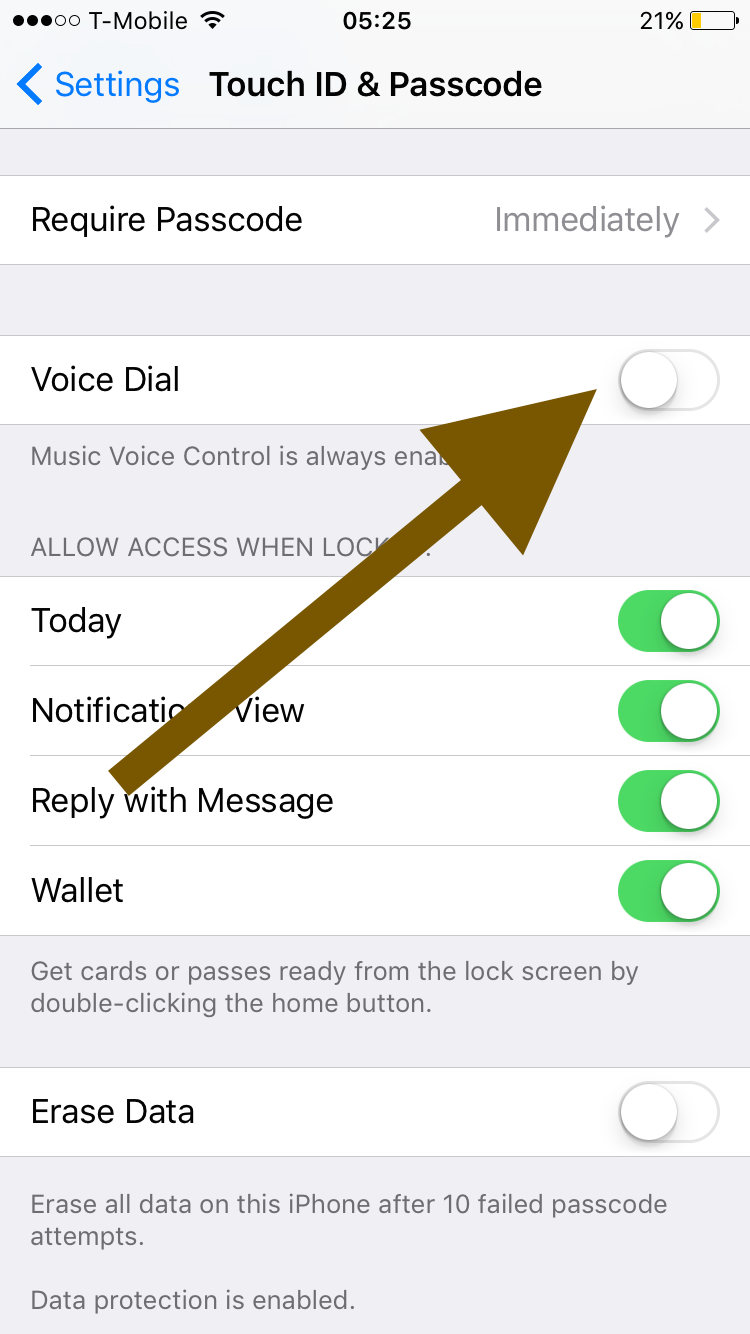 Please note that Music Voice Control is always enabled this only turns off Voice Dialing.
Option # 2
You may also try this method. This method involves turning on Siri. Here is how:
1.Turn Siri on by going to Settings > General > Siri and toggle Siri on. Enabling Siri disables Voice Control. However Siri can also make accidental phone calls. To prevent this, you need to enable passcode (see option # 1).
2.Now go to Settings > Touch ID & Passcode, In the "Allow Access When Locked" section, toggle off Siri.
This means that to be able to use Siri, you have to enter your passcode thus it will prevent making accidental 'pocket' phone calls while your iPhone is in your pocket or handbag.
Voice Control is also available on iPod touch. You may use these methods if you want to disable Voice Control on your iPod touch also.
See also: