How to Change System Sounds (empty trash, screenshot, sent message, etc) on Mac
In this article, I will show you how you can change the system sounds on your Mac. This will let you customize the sound effects for system and apps events. For example, these system sounds are played when you delete a file or connect a new device to your computer. This includes the following sounds:
Empty trash
Move to trash
Drag to trash
Remove from the Dock (poof)
Accessibility sounds
Screen capture
Shutter
Payment failure and success
Sent message
Some Siri sounds
Recording
Mount and unmount
And more…
You can remove or customize these sounds if you are annoyed hearing the same sound effects every day on your Mac.
Please note that you can easily change the alert sounds on Mac by going to System Preferences > Sound. These the sounds you hear when you attempt to do something that isn't allowed.
UPDATE: If your Mac has macOS Catalina or later, you will not be able to use this article. Because you will not be able to change your read and write permissions on system-protected files such as these. Disabling System Integrity Protection will not help. In Big Sur, the system volume is also signed. You will not be able to use the Terminal command like the one below if you are running Big Sur:
sudo mount -uw /
Change system sounds
Please follow the steps below. Please note this article involves you creating your own sound files.
1. Create the sound files that you will use to replace the current ones. Those sounds files are in .caf or .aif format. You can use Audacity or similar to create these types of files.
2. Now go to the SystemSounds folder. This is where these sounds files are stored on your Mac. The SystemSounds folder is located in the System Library folder. Here is how you can access this folder:
Go to Finder and click Go from the menu bar at the top of the screen.
Click Go to Folder.
Type the following location in the input field and click Go.
/System/Library/Components/CoreAudio.component/Contents/SharedSupport/SystemSounds/
And the folder will open.

3. You will see a few different folders: accessibility, dock, FaceTime, finder, ink, Siri, system, and telephony. Each folder includes different sound files.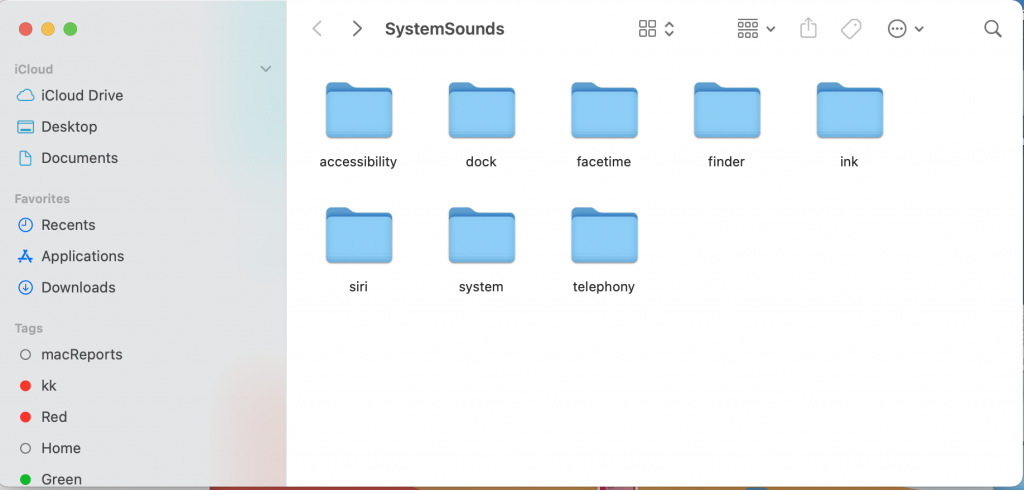 4. Depending on what sounds file you want to change, open the corresponding folder. For example, if you want to change the "drag to trash" sound, open the dock folder. The finder folder also includes trash-related sounds. The system folder contains a lot of sound files such as screen capture sounds etc.
5. Then rename the sound file you created. Ensure that both the name of your file and the name of the system sound file are the same. For example, if you want to change the "empty trash" sound, you should have a .aif file named empty trash.aif.
6. You may want to drag the original file to your desktop as a backup if you want. Then drag the file you created into the sound folder.
See also: Desktop Tab is Blank in System Preferences on Mac, Fix