How to Turn On Apple Watch Water Lock
Water and electronic devices usually do not go well together. Since we always wear our watches, your watch is bound to get wet, like when you are doing the dishes. Because it's expensive hardware, you may worry whether your Apple Watch will get damaged if, for example, you get caught in the rain.
Water can get inside your Apple Watch because it is not waterproof. This does not mean that you cannot wear your watch in watery situations. For example, you can wear your watch when you are swimming, showering, walking in the rain or washing your hands. This is because your watch is water resistant.
Your Apple Watch has a feature called Water Lock. After your watch has been exposed to or submerged in water, you may notice that your watch speakers may sound muffled. This is because there is wetness in the speaker openings. This is why it is important to use the Water Lock feature. This feature is designed to perform two main functions:
To lock the screen to prevent accidental taps when water touches your watch.
To eject water that may have gotten into the speakers when it is turned off.
Apple Watch Series 2‌ and later include this setting. Here is how you can use it. Apple Watch series 1 was not designed to be used underwater.
Turn on and off Water Lock
Open the watch face. You may press the Digital Crown to go to the watch face. Swipe Up to open Control Center. Control Center enables you to quickly turn on or off useful features, such as Wi-Fi, Airplane Mode, Theater Mode and more.
Tap the Water Lock icon; you may need to scroll down to find it. The Water Lock icon looks like a water droplet, as you can see below. Please note that this mode will automatically turn on when you start a water-based workout, like swimming.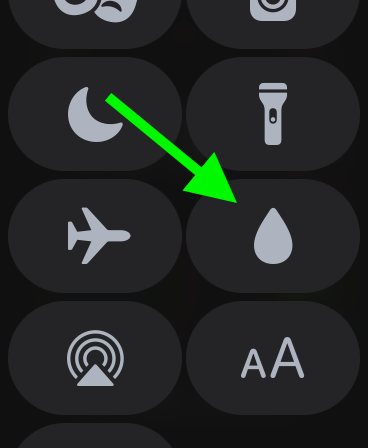 Now, Water Lock is enabled. A small Water Lock icon will appear at the top of your watch face, indicating that Water Lock is enabled.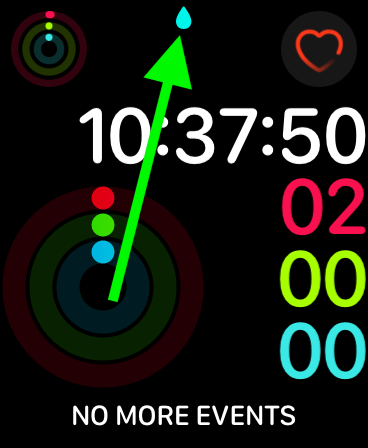 When this mode is on, your watch's touch screen will not respond to touch. In Lock Mode, your watch will still receive calls and texts. Your watch will continue to record your activities. All sensors, like heart rate, etc., will work. But you won't be able to accept or reject your calls using your watch because the display won't respond to your touch.
You will need to turn off Water Lock before you can start using your watch after your water activity is done. To turn it off, you will need to press and hold the Digital Crown. In this process, your watch will eject any water inside. You will see a message saying "Unlocked." After unlocking, you can start using your watch normally again.
Related articles