How To Uninstall Flash Player On Mac
This article explains how you can completely remove Adobe Flash Player from your Mac. There are many reasons to uninstall Flash as Flash became known as a major security risk. You really should not be using Flash player anymore.
Removing Flash is very simple. We will use the Adobe Flash Player Uninstaller app. Furthermore, your account should have administrative rights to be able to complete the steps described in this article. Here is how:
See also: How To Disable Update Adobe Flash Player Notifications
Uninstalling Adobe Flash Player
Steps:
Download the Flash Player Uninstaller. Please select your installer depending on your macOS version. You can see your macOS version by going to Apple Menu > About This Mac. The current version is Catalina, 10.15.
This file will be downloaded to your default file download location. For example, if you are using Safari, you can change this location by going to Safari > Preferences. Then click the General tap and change your file download location. I downloaded this file in my Download folder. If you are using Safari, you can also access your downloaded files by clicking the Download button (top-right corner of the Safari window).
Double click the installer file you just downloaded. An alert will appear when you want to open the item. You may also see a message saying it cannot be opened because it's from an unidentified developer or wasn't downloaded from the Mac App Store. You can change this setting by going to Apple menu > System Preferences > Security & Privacy > General. Then click the lock icon (enter your password and select "App Store and identified developers"). See also: How to protect your Mac.
This will show you the Uninstaller icon. Click this icon.
You Mac may ask you if you want to run the Installer.
Click Uninstall (You may have to enter your admin password).
The installer will run and completely remove the Flash player. When it is done, click OK.
Restart your computer by going to Apple menu > Restart.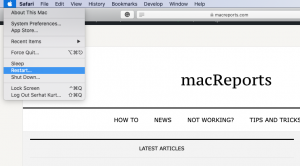 That's it. You may want to remove the downloaded uninstaller also (DMG file). You are done.