What Is iTunes Match and How Do I Use It?
Did you know that you can sync all of your songs across your devices even if you are not an Apple Music subscriber? This includes all of the songs that you have purchased from the iTunes Store and the songs you have gotten from other sources, like the audio content ripped from CDs or purchased from Amazon. This way, you can access your music library on up to 10 of your devices that are signed in with the same Apple ID.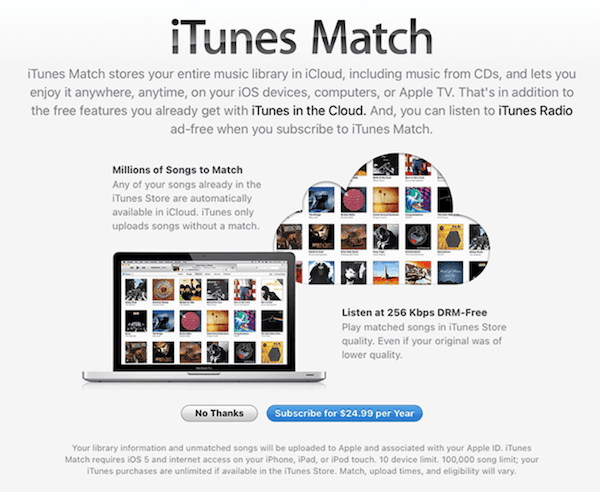 What is iTunes Match?
iTunes Match is a paid subscription service for $24.99 per year. As I stated above, it lets you access all of your music on all of your compatible devices using the same Apple ID. It is a lesser known service even though it launched a long time ago, in 2011.
Apple Music kind of overshadowed iTunes Music. What iTunes Match does is that it enables you to match or upload up to 100,000 tracks from your music libraries to iCloud Music Library. Then, you can play said tracks, DRM-free, on a total of 10 devices. iTunes Match also includes access to iCloud Music Library.
iTunes Match automatically scans media files and tries to identify media in your iTunes library, such as the names of songs and artists. Then three things occur:
It uploads anything it can't match, regardless of the source of the media file.
It makes matched songs available at AAC at 256kbps, regardless of the original quality. So you can listen to higher-quality versions of your music.
If you turn on Sync, it makes your entire local music library available across devices using the same Apple ID.
iTunes Match supports all the audio file formats that iTunes does: MP3, AIFF, WAV, MPEG-4, AAC and Apple Lossless (.m4a).
iTunes Match is not available on Android devices. You can use it on a PC if you download and install iTunes for Windows.
What is the difference between iTunes Match and Apple Music?
A lot of people are confused about the differences between iTunes Match and Apple Music. The biggest difference is that your Apple Music Library will be gone if you cancel your subscription. This is because Apple Music doesn't own the music it streams due to Digital Rights Management (DRM).
Like Apple Music, iTunes Match has a library storage limit of 100,000 songs. They both offer access to your iCloud Music Library.
Apple Music will also match your Music Library across your devices, including music you have obtained from other sources. Apple Music costs $10.99/mo for an Individual Plan. There is also a Family Plan ($16.99/mo) and a Student Plan ($5.99/mo). So iTunes Match is much cheaper than any of the Apple Music plans, and if you don't want music that isn't already in your own personal collection, you can choose iTunes Match to sync your music across your devices.
How to subscribe to iTunes Match
As I stated above, it is an annual subscription, and currently, it is offered at $24.99 per year.
You would need a Mac or PC with iTunes for Windows. After you subscribe, the service automatically renews every year unless you cancel it before the next due date. Here is how to buy iTunes Match:
On your Mac, open the Music app. On your PC, open iTunes for Windows.
On your Mac, click iTunes Store. If you do not see the iTunes Store, click Music > Settings (Preferences) > General and ensure that iTunes Store is selected. On your PC, click Store.
Go to the bottom of the screen, click iTunes Match and then Subscribe. Follow the onscreen instructions.
After subscribing, be patient because it could take some time for iTunes Match to upload your music from your Mac or PC.
If you want to unsubscribe, you will need to cancel it just like you cancel any other Apple or app subscription by following these steps:
On iPhone or iPad: Go to Settings> [Your Name] > Subscriptions and find iTunes Match, then tap Cancel Subscription.
On Mac: Open the App Store and sign in (if you are signed in, click your name), then go to Account Settings > Subscriptions > Manage. Next to iTunes Match, click Edit and then Cancel Subscription.
Windows PC: Open iTunes, click Account and View My Account. Then click Manage next to Subscriptions under the Settings section. Click Edit next to iTunes Match and then Cancel.
Related articles