How to enable Cookies on iPhone
Some users may be wondering how to enable cookies on their iPhones. Different people have different thoughts on whether or not having cookies enabled is an important security/privacy risk. Some websites have functions that depend on cookies, and so will require them to be enabled. Browsers vary in their customizability when it comes to cookies. In this article, we will tell you how you can enable, disable or modify the cookies settings in Safari, Chrome, and Firefox on your iPhone.
Curious about Private Browsing mode, see Can Private Browsing be Traced on an iPhone, iPad, or Mac?
What are Cookies
HTTP cookies are small collections of data that a web server creates when a user is browsing a website. The web browser then leaves the cookie on the user's device.
Why Enable Them?
Cookies used by a website itself (first-party) can be used by a website to save important info about your preferences, such as usernames and passwords.
Why Keep them Disabled?
Cookies used by third parties, such as ad companies, can be used to track your internet activity for the purposes of targeting ads to your interests.
How to Disable or Change your Cookie Preferences
Safari
If you are using Safari to browse the internet on your iPhone, there are many settings available for you to customize, through Settings.
Open Settings, then scroll down and select Safari.
To enable cookies, scroll down to the Privacy & Security section and tap the toggle switch (to the OFF position) next to Block All Cookies.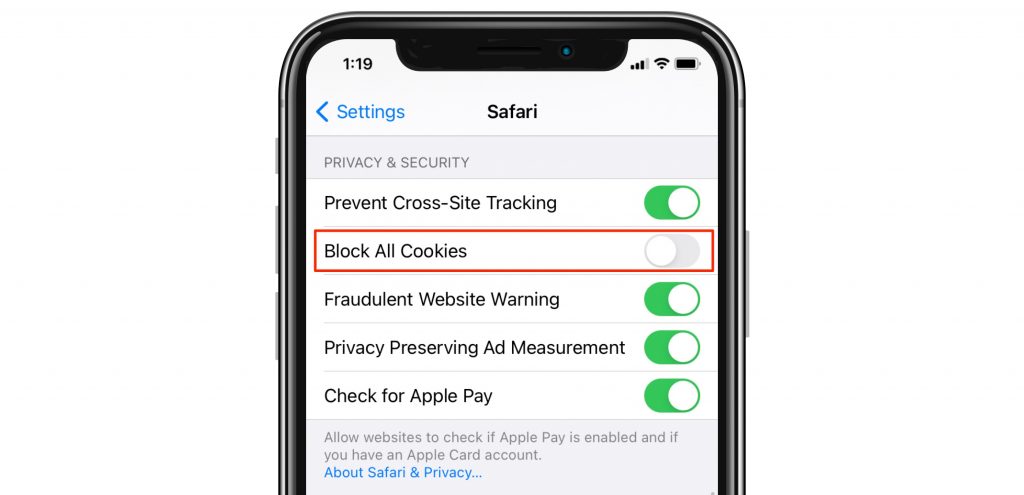 To block the third-party cookies that advertising companies use to track you, toggle the switch next to Prevent Cross-Site Tracking to the ON position.
Chrome
For Chrome, you can't disable cookies, so they're enabled by default. You can, if you would like, delete the cookies that have already been saved.
Open Chrome and tap on the menu (three dots) icon on the lower-right corner. Tap on Settings.

Tap on Privacy, then Clear Browsing Data.
Select "Cookies, Site Data" and whatever else you would like to delete.
Tap on Time Range to choose whether you want to delete all cookies, or just more recent ones.
Firefox
Firefox has a couple of different tracking settings to choose from. There is no setting like "Block All Cookies" and so, by default, cookies are allowed. To choose your level of tracking protection:
Open Firefox and tap the menu (three lines) icon in the lower-right corner. Tap on Settings.
Scroll down to the Privacy section and tap on Tracking Protection.
You can choose to disable the Enhanced Tracking Protection, if you need to.
If you wish to block more trackers, ads and popups, you can select the Strict mode. This mode might block some function you actually want to use, and so there may be some things that won't work when this mode is enabled.
Related Articles: