How To Hide Your Caller ID When Making Phone Calls On iPhone
You can make phone calls without giving out your phone number. The purpose of this article is to show you how you can hide your number when calling a person on your iPhone. This will let you make anonymous phone calls!
There can be various reasons to not want your phone number showing up. For example, you may not want a stranger to see your number. Whatever the reason is, this is a very simple process.
See also: iPhone not ringing?
What is caller id? Caller id displays the phone number of the person calling on your screen. If the caller number is saved on your phone, his/her contact name will be displayed. When you do this meaning when you hide your caller id, your phone number will show up as Private, No Caller ID, Unknown or something similar when you call people.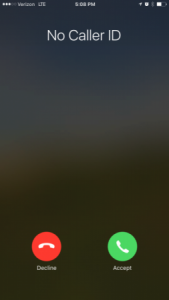 Please also note that a lot of people do not like receiving calls from these type of callers who hide their caller ids. If you are one of them, You can reject these kinds of calls.
Hide your caller ID for all calls
This is the easiest solution. Here is how:
1. On your iPhone, go to Settings > Phone > Show My Caller ID.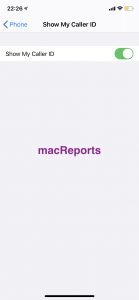 2. Then toggle this off to make your phone number private. If you change your mind, you can always turn this on later.
Now for every call you make from your iPhone, your number will not be shown. When you place a call, the recipient will not know what number is trying to reach until they answer your call.
So you turn 'Show My Caller ID' off and you want to unblock Caller ID on a per-call basis, you can do that as well. Here is how:
1. Dial *82
2. Then enter the full phone number, for example: *822175554433
3. Tap the call icon to make the call.
Note: your carrier may not support this feature.
Hide your calls on a per-call basis
If you use the above method, you will block your caller ID for all calls. You can also hide your caller id on a per-call basis. This will let you withhold your number for a specific call. Here is how:
1. Dial *67
2. Then enter the 10-digit phone number, for example, dial a number like this: *672175554433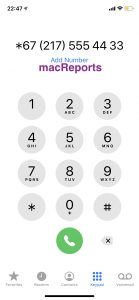 3. And tap the call button.
Another simple tip is that you may want to add the *67 prefixes to certain contact's phone number. 
Please note that this method may not work for you. Not all wireless carriers support this. Verizon, Sprint, AT&T and T-Mobile networks support this feature. And this service is free.
Your carrier may have a different code instead of *67 code. For example:
#31# – United States (AT&T phones), Australia (mobile), Albania, Argentina (mobile), Bulgaria (mobile), Denmark, Canada (mobile), France, Germany (some mobile providers), Greece (mobile), India (only after network unlock), Israel (mobile), Italy (mobile), Netherlands (KPN phones), South Africa (mobile), Spain (mobile), Sweden, Switzerland (mobile), Argentina (landline), Germany, Switzerland (landline), Greece (landline), Iceland, Netherlands (most carriers), Romania, South Africa (Telkom phones)
141 -United Kingdom, Republic of Ireland
*23# – South Korea
Contact your carrier to learn more.
See also: iPhone Not Showing Recent and Missed Calls