How to Install and Setup Apple TV Remote App
This article explains how you can download, install and setup the Apple TV app on your iOS device (iPhone or iPad); so that you can control your Apple TV. This will enable you to use your iPone or iPad as a remote. This will have many advantages, like:
You can enter text easily using the keyboard. For instance, it may take a long time to enter your keywords without a keyboard, lets say, when you are searching a show on Netflix.
You can use Siri to search and find shows etc.
You can use touch gestures to navigate and control, fast forward , pause etc.
You can use the volume settings on your iOS device to adjust the volume
You can set up your iPhone or iPad to control your Apple TV from anywhere on your home's Wi-Fi. Here is how:
See also:
Install Apple TV Remote
On your iOS device, iPhone or iPad, open the App Store app
Tap Search and enter "Apple TV Remote"
Find the app and tap to install
How to pair your Apple TV and your iOS device
The next step is that you need to add your Apple TV. Here is how:
Make sure that your Apple TV and your iOS are connected to the same Wi-Fi internet connection.
Now tap the Apple TV remote icon on your home screen to launch the app
You will see your Apple TV. If you do not see it, make sure your iPhone or iPad is on the same Wi-Fi connection as your Apple TV.
Now tap your Apple TV: my Apple TV is superhero TV.
You will be shown a four digit number. You need to enter this number on your Apple TV in order to pair your Apple TV and iOS device. 
To enter the code, on your Apple TV, go to Settings > General > Remotes
You will see your device (under the iOS Remotes section). Select your device add. (note that if you had previously paired devices, you can unpair them here also).
Now you need to enter the passcode that is displayed on your iPad or iPhone and press Done.
Now your device is paired with your Apple TV.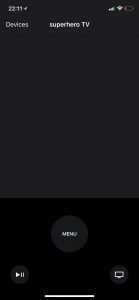 See also: Apple TV: An Error Occurred Loading This Content. Try Again Later
iOS 11 (and later) lets you control your Apple TV from Control Center. If you want to do this simply add Apple TV Remote to Control Center by going to Settings > Control Center > Customize Controls and then add Apple TV.
Then open Control Center, and then tap Apple TV Remote.