How to Record your Screen or Take a Screen Shot on Apple TV
In this article, I explain how you can use your Mac to take screenshots or record video from your Apple TV. This will let you create a screen recording of your Apple TV screen. I should note that your screen videos can include your Apple TV sound, if you want. You can also take Apple TV screenshots. This involves a few simple steps using your Mac. For this, we will only use the built-in tools.
There can be several reasons why you may want to do this. For example, you may need to take a screenshot of your Apple TV for a presentation, or you may need your Apple TV screen recordings because you are trying to create a YouTube tutorial video about the games you play on your TV. Whatever the reason is, it is really easy to record or take of picture of what is going on your Apple TV.
It is important to note that this method will not allow you to record DRM-protected content, like Netflix movies.
How to make Apple TV screen recordings and screen shots
Follow these steps:
The first step is to ensure that your Mac and Apple TV are connected to the same Wi-Fi network. Here is how you can check:

On Apple TV, go to Settings > Network.
On Mac, click the Wi-Fi icon in the menu bar.
Make sure that the network name on both devices match.

On your Mac, open QuickTime Player. You can open it by going to the Applications folder.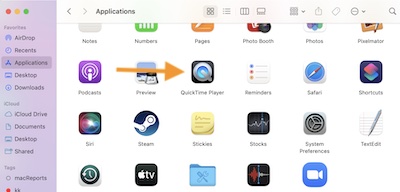 In QuickTime Player, go to File > New Movie Recording. Alternatively, you can press the Option, Command, and N keys together.
A Movie Recording prompt will appear. Click the carrot (down arrow) next to the red record button.

A popup menu will appear. Your Apple TV will appear here, as long as they are using the same network. Select your Apple TV in the Camera section, and if you also want to record audio, select your Apple TV again in the Microphone section.
On your Apple TV, a popup will appear. Enter the code on your Mac to connect the devices. Then click OK.
Now you will see that your Apple TV screen will appear on your Mac.
Now you can take a screenshot, as you normally take on your Mac. For example you can use the "Shift, Command, 5" shortcut. The picture will be saved on Mac.
You can also create a video recording of your screen by pressing the red record button. Press the button again to stop recording and save it on your Mac.
Related articles