How to Mirror Your Apple Watch to Your iPhone
With iOS 16 and watchOS 9 come many great new features. Apple Watch Mirroring is a new one in the Accessibility category. With Apple Watch Mirroring on your iPhone, you can use many of the accessibility features on your iPhone to control your Apple Watch. This can help those who have struggled to use their Apple Watches or even open up Apple Watch use to those who hadn't considered it before.
We also have a video of the steps:
The standard way to interact with an Apple Watch involves viewing and tapping on fairly small targets. This can be challenging for someone with vision difficulties or for someone who has trouble tapping the watch with the needed accuracy.
There are several excellent features available on an Apple Watch. But especially when considering some of the health monitoring features, an Apple Watch gives the wearer useful, and occasionally life-saving, insights into their own health. Making these features available to as many people as possible is important.
How does Apple Watch Mirroring help?
The mirrored Apple Watch screen is significantly larger than that of the Apple Watch itself.
The mirrored watch screen can be tapped using the same hand that wears the watch.
An iPhone has more advanced accessibility features than an Apple Watch. Two such features available on iPhone are Voice Control and Switch Control.
With Apple Watch Mirroring, users can control their watches using voice commands, sound actions, head tracking and external switches.
How to use Apple Watch Mirroring
In order to use Apple Watch Mirroring, you need to have an Apple Watch 6 or later (not including Apple Watch SEs) running watchOS 9 or later, and your iPhone needs to be running iOS 16 or later.
How to turn on Apple Watch Mirroring
Open Settings on your iPhone and tap on Accessibility.
Select Apple Watch Mirroring.
Toggle the switch to turn it on.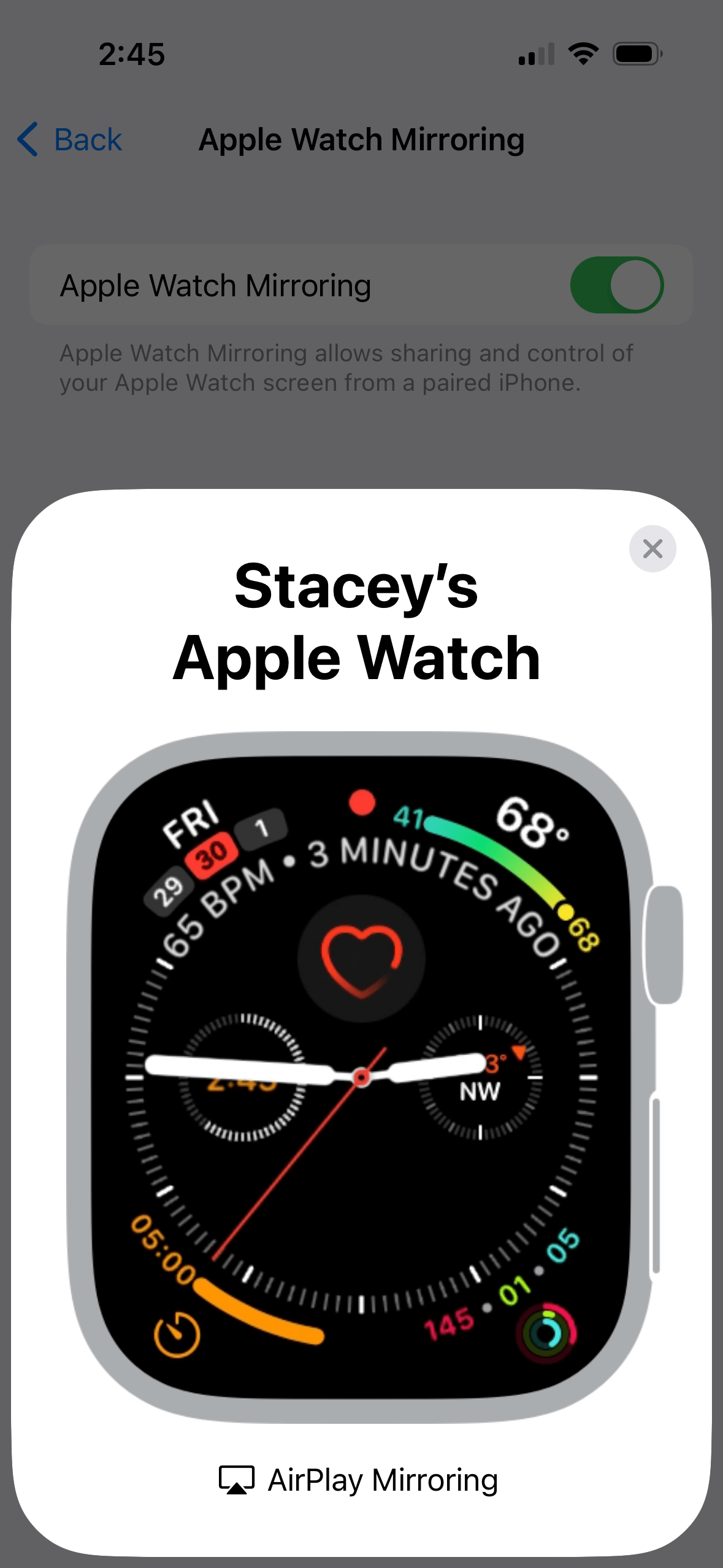 How to interact with the mirrored image on your iPhone
Most of the Apple Watch gestures work as you might expect in the mirrored Apple Watch display. You can use the following gestures:
Scrolling and left or right swipes work as they do on the Apple Watch.
To press the Digital Crown or side button, just tap them.
Press and hold the Digital Crown to use Siri.
Related articles