Why Can't I Edit Recently Sent Messages?
You just realized that you made a mistake in the message you sent. Maybe you put the wrong date, time or name in your message. You may ask yourself, "How can I edit a message after it has been sent?" After all, it's natural to sometimes forget to put the meeting location or to notice you misspelled your boss's name after tapping Send. The good news is that you can edit recently sent messages in the Messages app. This gives you more control over your texts and allows you to correct the mistakes you made. In this article, we will explain what you can do if you can not edit recently sent messages.
If you cannot edit messages
A lot of us realize we've made a mistake or we've simply changed our minds right after sending a message, and so we want to edit the message. However, some users have been unable to edit their messages. Users are experiencing the following issues:
The Edit option is not showing up.
Changes are not reflected when an edit has been made.
Nothing happens when a message is long-pressed.
You may be having this issue because you are experiencing one of these:
You have 15 minutes to edit a message after you send it. If 15 minutes have passed, the Edit button will not appear when you long-press the sent message. You can edit the same message multiple times if it is within the 15 minute limit.
You can only edit iMessages, not text (SMS) messages. iMessages appear in blue bubbles, while SMS messages appear in green bubbles. iMessages can only be sent to other Apple users. Thus, if you send a message to an Android user, you cannot edit it, even if it is within the 15 minute window. Again, if you are trying to edit a green text, the Edit button will not show up. You can learn more about the differences between iMessages and SMS messages.
The iMessage must be delivered before editing. Sometimes, the recipient's device may be unavailable, and it may take some time for the iMessage to be delivered. From my personal experience, although most of the messages are delivered instantly, I know that some messages may take hours to be delivered. Once it is delivered, the 15 minute timer starts. The undelivered messages will still appear in blue bubbles, but it won't say Delivered or Read under it.
If you are blocked by the recipient, you won't be able to edit the messages you send to them because those iMessages are not delivered.
You may be experiencing a temporary glitch. Restart your iPhone or iPad, and then try again.
This feature was introduced recently. Your iOS or iPadOS version may not support it. Ensure that you are running the latest version of iOS or iPadOS by going to Settings > General > Software Update.
You cannot edit multiple messages at once. You need to edit messages individually.
How editing works
A lot of people are using this message editing ability to correct simple typos, remove misleading details or to add extra context to messages.
To edit a message you just sent, long-press (tap and hold) on the sent message and choose Edit from the menu that appears. This will open the text field again where you can change the message. Tap the blue check mark when you are done.
After a message is edited, it will display Edited under it.
Once the Edited button is tapped, all edit history will be shown. Both sender and recipient can see the editing history.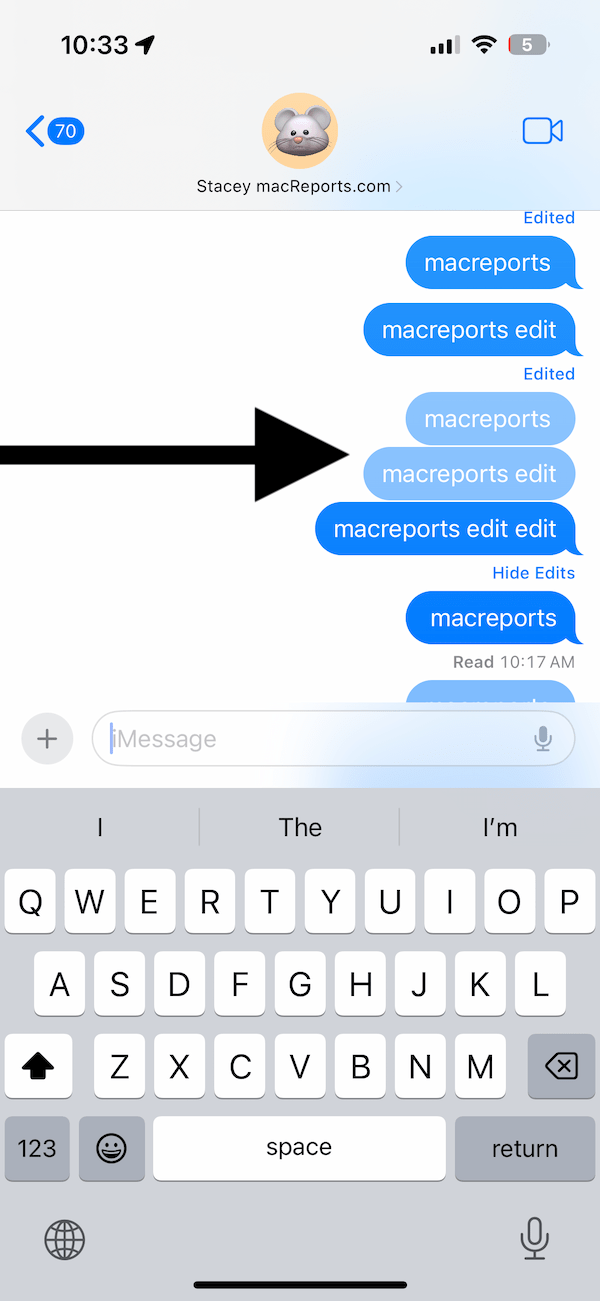 Group iMessages can be edited, too, as long as all participants are iMessage users.
Just like regular iMessages, the edited messages are also protected by end-to-end encryption.
You can only edit written text. If you send a photo or image, you cannot edit it later. If you want, you can unsend it. We explained more about how editing and unsending works in this article: How to Unsend or Edit a Sent Message on iPhone.
This feature is specific to the native Messages app. Other third-party apps may offer similar features.
Related articles