How to Zoom Out on your Apple Watch
Sometimes you may feel that your Apple Watch screen is stuck on zoomed-in mode, and you may want to zoom out so that you can use your watch normally again. Your Apple Watch lets you enlarge text and icons with its accessibility features. You can turn these features on in Settings. You can then use finger gestures to activate Zoom to better see your watch's screen. It seems that many users have experienced a zoomed-in screen issue. Most users don't know how to zoom back out and end up restarting their devices.
Because the watch screen is smaller than your phone's screen, the zoom feature can be handy – as long as you know how to use it. Here is how zoom works on Apple Watch.
Double-tap with two fingers to zoom in or out
If you are seeing a zoomed-in screen, you won't see the full screen, but only a part of it. Pressing the side button or the Digital Crown won't do anything to zoom out.
If you want to exit the magnified mode, double-tap your watch screen with two fingers. If your screen is zoomed-in, doing so will zoom out. If your screen is zoomed-out, this will zoom in. If you are in magnified mode, you can turn the Digital Crown to adjust your view. This can help you fix your problem; you won't have to restart your watch. You can also drag the screen with two fingers to move the view on the screen.
Turn on Zoom on your Apple Watch
Of course, the two-finger gesture won't work if the Zoom feature is disabled. There are two ways to turn it on. You can use either one:
On your Apple Watch, go to Settings > Accessibility > Zoom and toggle on the Zoom switch.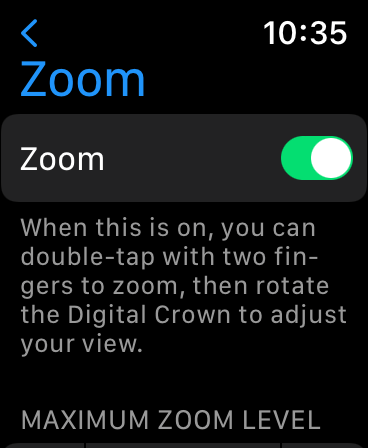 On your iPhone, open the Watch app, and go to My Watch > Accessibility > Zoom.
If you do not need to zoom in or out on your watch and if you keep accidentally zooming in, you can turn off Zoom by toggling the switch to OFF.
Adjust your Zoom settings
You can adjust various zoom settings. Again you can do this on your Apple Watch or iPhone. Open the Zoom settings either on your watch or phone (see the steps above). Then you can:
Set the zoom level: You will see a slider under Maximum Zoom Level. By dragging this slider left or right, you can decrease or increase the zoom level.
Change the hand gestures: Tap on Hand Gestures, then you can turn on and off Hand Gestures. There are four types of gestures, and you can customize them to your liking. You can customize the following gestures:

Clench
Double Clench
Pinch
Double Pinch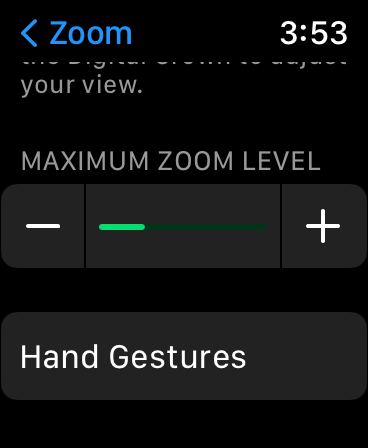 There are many other accessibility options available for Apple Watch. These include various visual adjustments, the VoiceOver screen reader, motion reduction and Mono Audio.
Related articles