How to Zoom In and Out in Safari on Your Mac
On your Mac, you may want to zoom in or out to make things on your screen easier to see while browsing the web in Safari. If you zoom in, this will enlarge the text, images, videos, and other objects on a website. You can also zoom out to see more content. By default, Safari sets the zoom level to 100%, but you can change this. This article will help you adjust the size of website content to make a webpage easier to read. More specifically, this article will teach you these:
How you can zoom in to magnify any web content that you have on your Mac.
How you can zoom out if you think the website text and images are too small.
How you can set a default zoom level for all websites.
How you can customize zoom settings for individual websites.
This article is especially important as users with low vision may prefer to have Safari (and other browsers) zoom into page content.
To quickly zoom in and out
You can zoom the active website you are currently viewing. If you want to quickly zoom in, out, and reset the zooming setting, you can use these keyboard shortcuts. This will temporarily set the zoom level:
Zoom in: Command and +
Zoom out: Command and –
Actual size: Command and 0 (this will restore the zoom to 100%).
Alternatively, in the Safari app, you can click the View menu and select a different zoom level: Actual Size, Zoom In, or Zoom Out.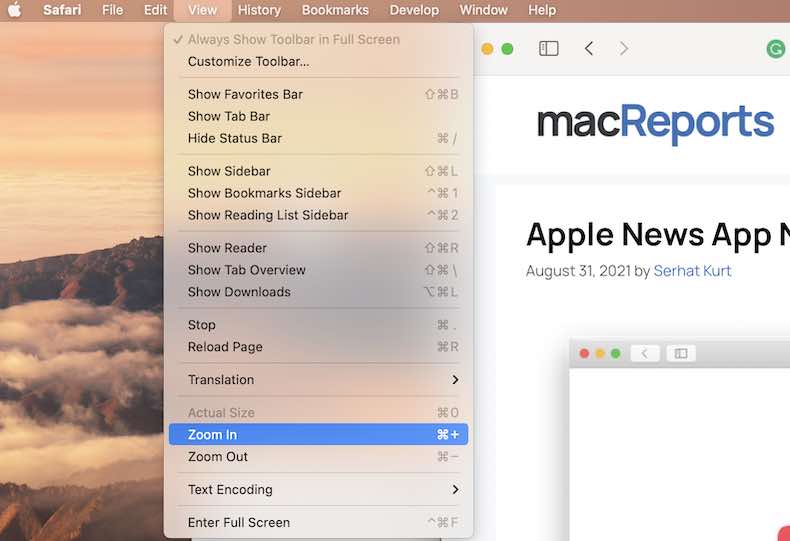 Increasing or decreasing the Text Size
You can zoom website text. This will only change the text size. The website's other elements (e.g., images, etc) will not be changed. Here is how:
While you are viewing the website, press and hold down the Option key and from the View menu, select Make Text Bigger or Make Text Smaller.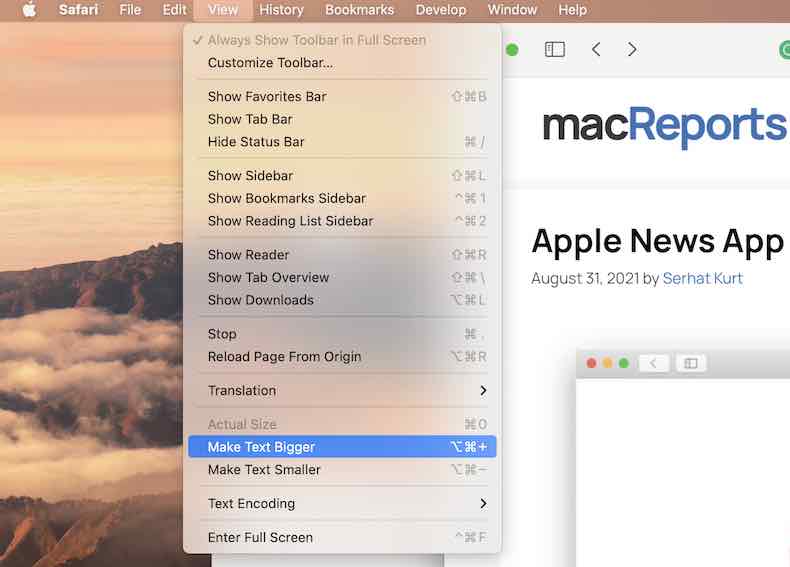 Or, alternatively, you can use these shortcuts:
Make text bigger: Option, Command and +
Make text smaller: Option, Command and –
Reset to the default text size: Command and 0
Permanently set the zoom level for all pages opened with Safari
As stated above, Safari's default zoom setting is 100%. Here is how you can change this setting:
Open Safari and in Safari, go to Safari > Preferences > Websites > Page Zoom (sidebar).
Select all websites (you can press the Command key and click the websites).
Then click the "When visiting other websites" menu and choose a larger or smaller percentage.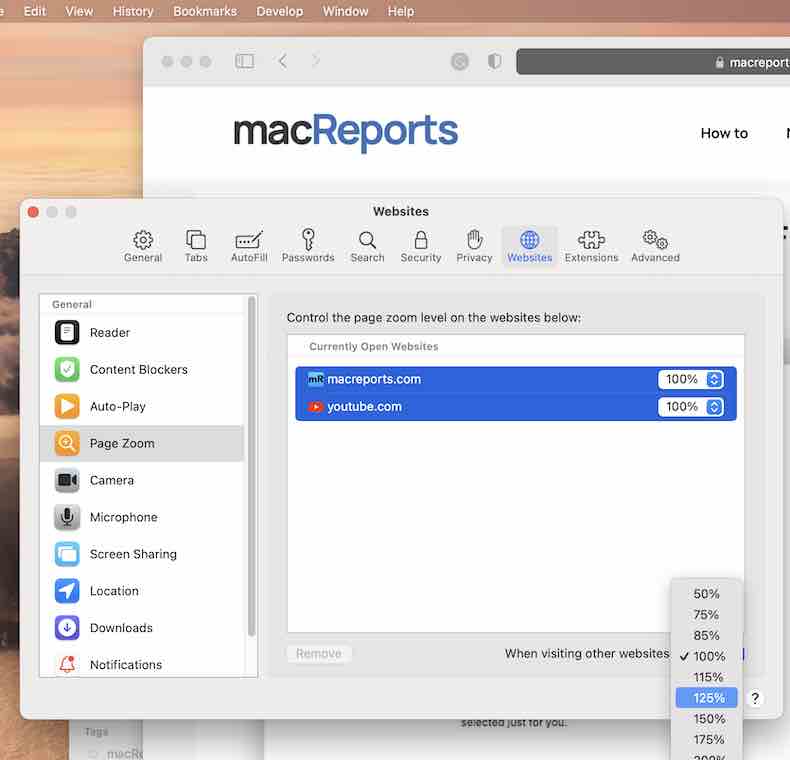 Set the zoom level for a specific website
If a particular website content looks too small or too big for you, then you may want to customize its zoom setting. Here is how:
If you are currently viewing the website, then you can click the Safari menu and Settings for This Website. Choose the Page Zoom option and change the level. You can increase or decrease. The 100% option will return the website to the default magnification level.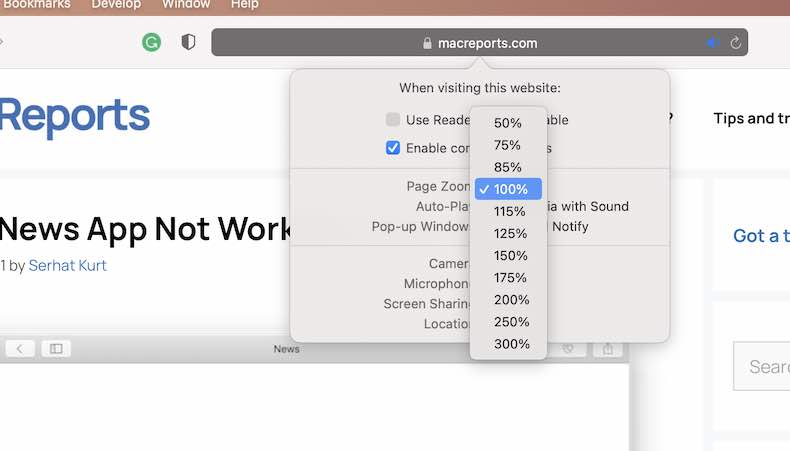 If you are not currently viewing the site, then you can choose Safari > Preferences > Websites. Select Page Zoom (sidebar) and then change the zoom level.
Set a minimum font size
This is another zoom setting. You may want to use it. So, if you are thinking that the font sizes on the web appear too small (for example, you may have vision impairment), you can set a minimum text size. In Safari, click Safari > Preferences > Advanced. Check the "Never use font sizes smaller than" box and choose a font size.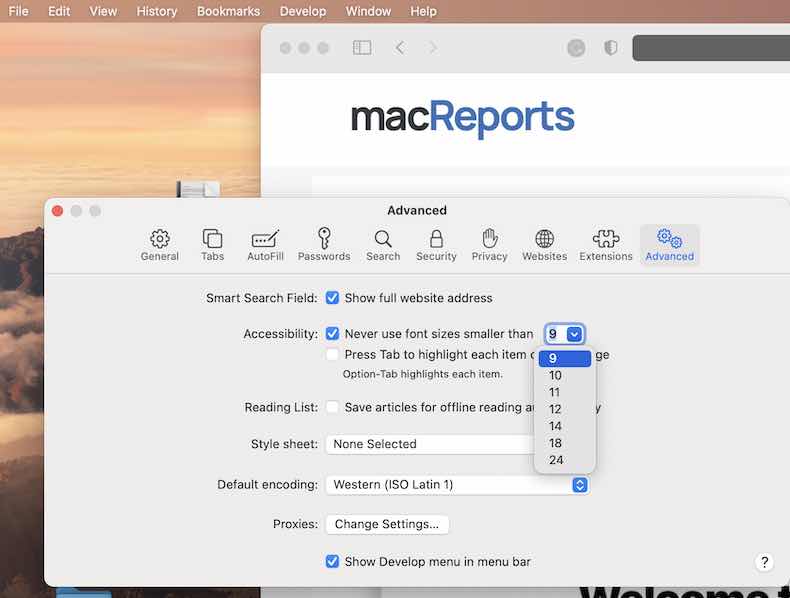 See also: