This Computer is not Authorized, Fix
In this article, I will explain how you can fix things if you get an error message saying "This computer is not authorized. You must authorize this computer before you can use Apple Music or iTunes Match on this computer."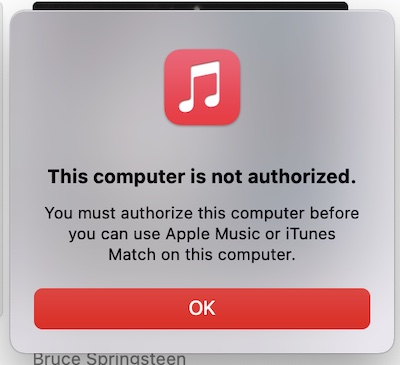 You may run into this problem while trying to use Apple Music or iTunes to listen to songs or other media, like videos and podcasts, even though you legally downloaded or purchased those items from the iTunes Store. This issue may also occur when you attempt to sync content. In Apple Music / iTunes, you can add songs, albums, playlists, podcasts and music videos to your music library. If you experience this problem, you won't be able to play the items in your library.
This problem can occur if your Mac does not have permission to play your items. However, you can easily grant your computer permission. In some situations, however, you may not be able to authorize a new computer – we will tell you what you can do if that is the case.
Authorize your Mac for Apple Music and iTunes
Open the Music app on your Mac.
From the menu bar, click Account and select Sign In (if you are already signed in, skip this step). Use your Apple ID and password to sign in.

Click Account > Authorizations > Authorize This Computer.

Follow the onscreen instructions. You may be asked to enter your Apple ID password again. That's it, your computer is now authorized. You can play your content again. Open Apple Music and test it. If it is still not working, restart your device.
Authorization not working?
After restarting your Mac, if this error is not gone, you may want to reset warnings and cache because those items could be corrupted, causing this issue. Follow these steps:
Open the Music app.
And go to Music > Preferences and click the Advanced tab.
You will see two buttons "Reset Warnings" and "Reset Cache." Click on each of these buttons.
After that, restart your Mac and test again. If you are still having issues, see the next step.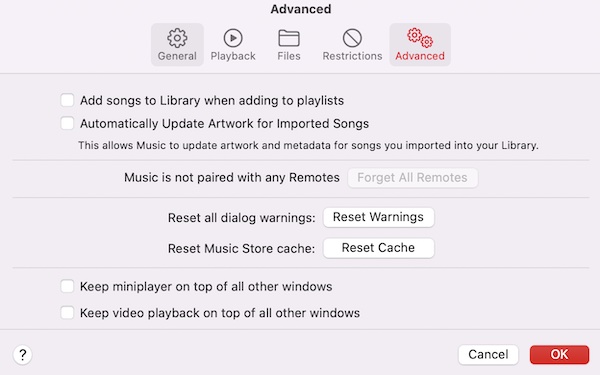 Unable to authorize your computer?
If you run into authorization issues, you can also fix that. There is a limit to how many computers you can authorize. If you are unable to authorize your computer, you may have run out of authorizations. If this is the case, you will get an error message saying "You cannot authorize more than 5 computers. You have already authorized 5 computers with this Apple ID. To authorize this computer you must first deauthorize one of the other computers."

As the error message says, the authorization limit is 5. If you are over the limit, you can remove one of the computers. If you are not sure how many computers you have authorized, you can view your authorized computers:
Open Music.
Click Account > View My Account.
Sign in with your Apple ID and password. This will open your account page. You will see a section called "Computer Authorizations." If this says 5, you can not add any more.
If you have reached the limit, you can deauthorize one of the authorized computers to open a spot. On the computer you want to deauthorize, open the Music app and go to Account > Authorizations > Deauthorize This Computer.
If this Mac is no longer available to you because you sold it or gave it away, then only thing you can do is to use your account information page to deauthorize all of your computers and then authorize the computers you want, one-by-one, by following the steps above. Here is how you can deauthorize all of your computers:
Open the Music app.
Account > View My Account.
Click the "Deauthorize All" button.

Related articles: