Apple Watch Battery Life Problems, How To Fix
According to Apple, Apple Watch battery is designed to last up to 18 hours with normal usage. Do you think that your watch battery charge is draining faster than normal? Are you experiencing significantly shorter battery life than Apple's information. There could be a number of reasons that your Apple Watch battery is giving you trouble. It is important to note that battery life varies depending on use and other factors.
This article explains how you can address Apple Watch battery life problems. This includes tips to make your Apple Watch last longer. These tips will also help you fix battery draining problems on your watch.
See also: Activity App Not Working? Fix
Fix Apple Watch Battery Drain Problems
1. Update evertyhing:
First update your iPhone. You can update your iPhone by going to Settings > General > Software Update.If there is an update, tap Download and Install.
Then update your Apple Watch. Here is how:

On your iPhone, open the Watch app, and tap My Watch
Tap General > Software Update and then follow the onscreen instructions.
2. Restart everything:
Restart your watch:

Press and hold the side button
You will see the Power Off slider
Slide the slider
And then, to turn on, press and hold the side button until the Apple logo appears.

Restart your phone:

Shut off your phone by either going to Settings > General> Shut Down or pressing and holding the side button.
And turn on you phone by pressing and holding the side (or top) button until you see the Apple logo.
3.Unpair and then repair. 
Do this especially if your battery problems started after an update. Here is how:
Make sure that your iPhone and Watch are placed close to each other
On you iPhone, launch the Apple Watch app
Tab My Watch and the (i) icon next to the watch
Tap Unpair Apple Watch
Tap confirm
And follow the onscreen instruction
Note that unpairing will erase all content and settings on your Apple Watch, however, your iPhone will automatically create a backup.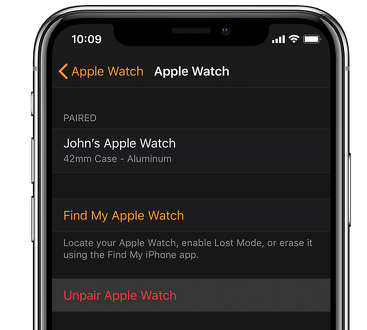 Now you will need to repair just like how you pair them originally. Since your phone will have a backup, you will asked to use the backup to restore. You may want to do this first. If you do this, most of your data, content and settings will be restored. If your battery problem is not resolved still, then unpair again and this time, do not use the back up to restore meaning set up as a new device.
4. Third-party fitness or sleep tracking apps
It is possible that using some third party fitness or sleep tracking apps may drain your battery too fast. Because these apps may use your Watch's battery intensive features. Close all apps on your watch to test. Here is how:
Open the app you want to close
Press and hold the side button until you see the power off menu
Now press and hold the Digital Crown
Tips to extend the battery life on your Apple Watch
Check your battery usage information. To do that, simply open the Apple Watch app on your iPhone and go to My Watch > General > Usage. This screen will let you see the proportion of your battery used by different apps. This will help you optimize your settings to increase battery life.
Do not turn off bluetooth on your iPhone. Turning this off will increase the battery drain on your Apple Watch.
Lower brightness of the display:

Settings > Brightness & Text Size, and tap the lower brightness as far as you think it is acceptable and useable.

You may adjust Wake settings to save battery life. For example, you may want to disable Wake Screen on Wrist Raise and Crown Up in the settings.
Turn off unneeded notifications by going to opening the Watch app on your iPhone. Then tap My Watch > Notifications.
Turn on Power Reserve. Do this if you need more battery life in certain situations to give your watch some additional battery life. Your watch will alert you if you want to turn this on the battery drops to 10 percent. Please note that while the Power Reserve mode preserves your battery life, it disables a lot of features. To turn this on:

Open Control Center by swiping up
Tap the battery percentage.
Slide the Power Reserve slider
To exit Power Reserve, you need to restart your Apple Watch by pressing and holding the side button until you see the Apple logo.
Above tips will help you extend battery life and maximize battery performance. If nothing above helps you, contact Apple. There might be some hardware problems. You may want to reserve a Genius Bar appointment.