Mac Stuck On "Setting up your Mac", Fix
Several users have reported an issue in which their Mac gets stuck or freezes (becomes unresponsive) during the installation or configuration of an OS X update. Users have stated that software update went smoothly until the Mac was stuck on the "Setting up your Mac…" screen at boot for a very long time. If you experience this problem during setup startup and can't continue, this article offers tips on how to fix this problem.
You Mac may get stuck when a problem occurs with the OS X update that prevents the computer from booting up successfully.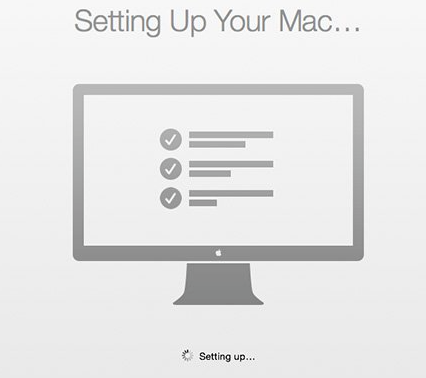 See also: Mac White Screen
Fix "Setting Up Your Mac…"
If your Mac become unresponsive during setup, first allow your Mac to complete the process. if it is taking too long (hours), then reset the System Management Controller (SMC) on your Mac to fix this problem. Here is how:
Resetting the SMC is done slightly differently depending on the type of  Mac you have.
MacBooks With Non-Removable Battery, like MacBook Air, MacBook Pro
Turn off your Mac
Connect your notebook to a power source
Press and hold these keys at the same time: Shift-Control-Option keys and the power button
Release everything (Shift-Control-Option keys, the power button)
Turn on the computer
Older MacBooks with Removable Battery
Power down your Mac
Disconnect the power, if it is connected
Remove the battery
Press and hold the power button for five seconds
Replace the battery
Connect the power
Turn on your Mac
Mac Pro, iMac, Mac mini
Turn off your Mac
Disconnect the power
Wait 15 seconds
Connect the power
Wait five seconds
Turn on your computer
See also: Back up your Mac that will not start up
Devices: MakBook Air, MacBook Pro, iMac and Mac Pro
Software: OSX El Capitan, Yosemite, Mavericks