The Operation Couldn't Be Completed. (BKAgentServiceErrorDomain Error 8.); Fix
You can easily purchase, download and read books and PDF files in Books, also known as iBooks, on your Mac.
Several users have reported that they are unable to open and read ebooks in the Books app on the Mac. Furthermore, users have said that they receive the following error message:
The operation couldn't be completed. (BKAgentServiceErrorDomain error 8.)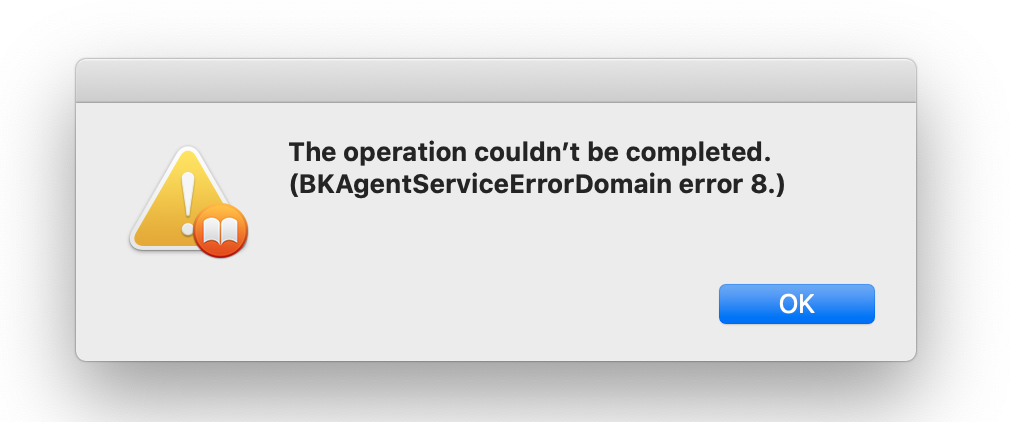 Besides seeing this error message, Books thumbnails may have a spinning wheel on them. You may see this message even if you want to open purchased books from the Books Store. Lastly, you may start having this problem after a macOS update.
Are you having this problem too? The Books app won't open your library? Books fail to open? This article explains how you can resolve this macOS Books app error. This problem may be a big issue for you because your audiobooks, ebooks, epubs, or pdfs will not open unless you fix it.
Books error message fix
1. Make sure that your Mac is running the latest version of the macOS software.
You can check for updates by going to the Apple menu > System Preferences > Software Update (macOS Mojave or later). If there is an update available, click the Update Now button. You may also want to check the "Automatically keep my Mac up to date" box. So that you Mac will update itself automatically.
If your Mac is running macOS High Sierra (or earlier), then open the App Store on your Mac and then click Updates.
2. If you are still having this problem, then complete the following steps:
On your Mac, quit the Books app (in Books, click Books > Quit Books)
Go to Finder
Press and hold the Option key
While pressing the Option key, click Go (menu bar) and Library
Find and open the Containers folder
Find and open the com.apple.BKAgentService folder
Find and open the Data folder
Find and open Documents
Find and open iBooks
Open the Updates folder
If there are any files in the Updates folder, drag all of them to your desktop. Do not delete the Updates folder. Just delete its content. You should move them to the desktop as a backup instead of deleting.
Now restart your Mac by going to the Apple menu and Restart
Open the Books app, and try opening your Books again to see if you see this error.
If your issue is fixed, you can now go ahead and delete the files you just placed on your desktop.
3. If you are still having this problem, please complete the steps below:
Quit the Books app if it is running (in Books, click Books > Quit Books)
On your Mac, open the Activity Monitor app
Click the CPU tab
Find the com.apple.BKAgentService process, you may use the Search function
Select it by clicking once
Then click the (x) quit icon to quit this process.
Open the Books app and try again.
See also: How to Cancel Your iTunes (apps, iTunes Store, iBooks etc) Purchases