macOS Catalina: How To Change The Login Screen Background
You can change the login screen wallpaper image that appears when you start your Mac to any image you want to use. We previously wrote about how you can change the login screen image in macOS Mojave. It seems that it is a little harder to change this background image for the login screen wallpaper now but it is still possible. You may want to do this so that you do not have to stare at the generic Catalina image every time you type in your password.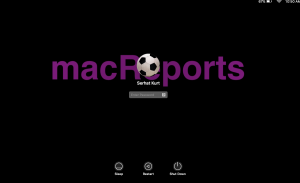 macOS Catalina custom login screen
Here is how:
Please follow each step carefully:
1. Find or create the image you want to use. You can find it online. You can create one yourself. You can modify using the Preview app or using any other photo editing apps. This will be your login screen. I created a basic solid black image. See below. Save this image anywhere you want on your computer (e.g, Desktop etc). Just make sure that you can easily find it as we will need this later. There are different types of image formats. Your image can be a JPG or PNG (the most common types). 
2. Rename this file as Catalina.heic (HEIC files)
You can rename it by selecting it and hitting the 'return' key and entering this new name.
3. Now we will disable System Integrity Protection. Do not worry we will re-enable it after we are done. And this can be done via Recovery Mode. Here is how:
Turn off your computer
Turn on your Mac and immediately press and enter the Command (⌘)-R keys. Keep these keys when you see a login or the recovery mode screen.
You will be asked to enter your password
After starting up from macOS Recovery, click Utilities (from the top menu)
In terminal enter the following command and press enter (this will turn off System Integrity Protection)
csrutil disable
Restart your Mac by going to the Apple menu and Restart.
4. When your computer restarted, open Terminal (Applications / Utilities or you can use Spotlight) and enter the following command and hit enter:
 sudo mount -t apfs -wu /dev/disk1s5 /Volumes
Make sure that you replace 'disk1s5' with the identifier for your system. If asked, enter your passcode. if you do not know this, open Disk Utility (Applications / Utilities or you can use Spotlight) and select your disk (sidebar) and then click the Info icon.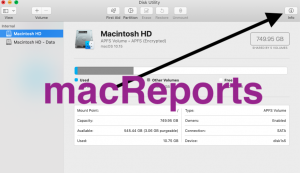 5. Again, in Terminal enter the following command and press enter:
sudo mount -wu /; killall Finder
6. Now go to Finder, click Go and then Go to Folder and enter /System/Library and click Go.
7. Click Desktop Pictures folder
8. There you will see a lot of images. Find Catalina.heic and rename this file like Catalina-original.heic, (just in case if you want to change it back).
9. Now copy and paste the heic image that we created (step # 2) in here (System > Library >Desktop Pictures)
10. Again open the Terminal app and enter the following code and hit enter:
diskutil apfs updatePreboot /
Wait until the Terminal app completes the process.
11. Restart your Mac, and now you will see that your login wallpaper is changed.
Important: Now, let's re-enable System Integrity Protection as this will help protect your Mac from malicious software. Here is how:
Restart your Mac in Recovery Mode (see the step above #3)
Open the terminal and enter the following command and hit enter:
csrutil enable
Restart your computer. Now System Integration Protection is enabled. You can check this by going to the System Information app (Applications / Utilities). Click Software and check to see if you see this "System Integrity Protection: Enabled"