Netflix Not Playing in Safari: Error Code S7702 – 1003
Sometimes you may run into problems watching Netflix in Safari on your Mac. A common issue is the Netflix Error S7702-1003 code. This problem prevents users from logging into their accounts and loading Netflix in a browser like Safari. The error message says:
Pardon the interruption. We're having trouble playing Netflix. Please make sure your browser isn't in Private mode and try again.
Sometimes this error code may say:
Pardon the interruption. Sorry, we're having trouble with your request.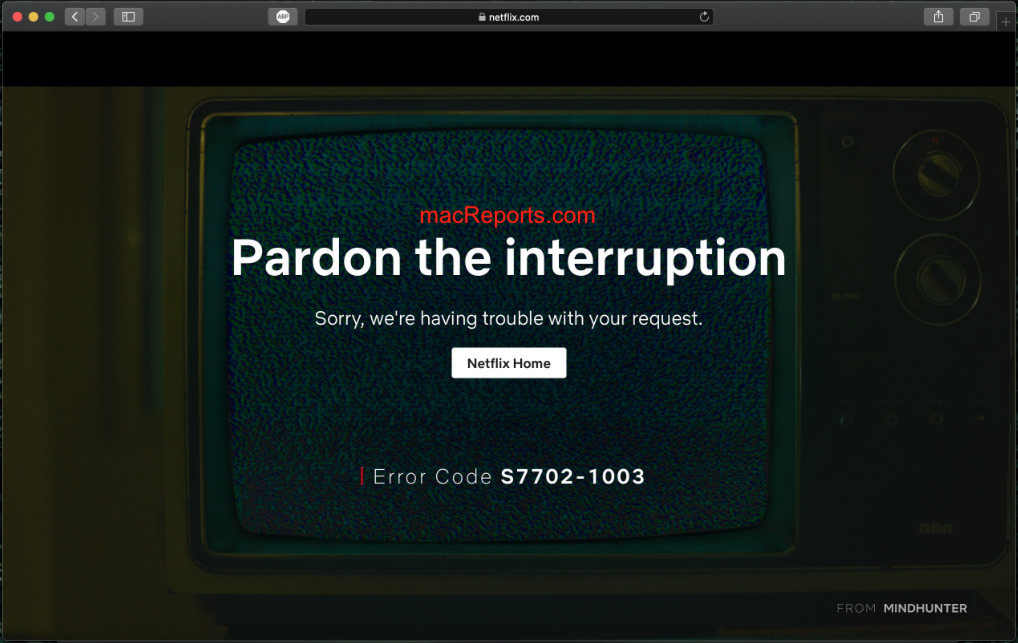 If you experience this problem, here is how you can fix it so that you can continue streaming. Please try the steps below in order. After trying each step below, test Netflix again to see if if you can play your movie or show.
See this article if you see the "Cannot Play Title. Please Try Again Later" error.
1. Make sure that Safari is not in Private Browsing mode. You will have to turn off Private Browsing if you want to enjoy Netflix. When you are in this mode, the Safari address bar will appear black or dark instead of white.
You need to stop Private Browsing. In Safari, File > New Window. A new Safari window will open. Now visit Netflix and try to play Netflix.
If Safari always opens windows with Private Browsing, you can disable this:
Open Safari.
Click Safari > Preferences > General.
And open the "Safari opens with" pop-up menu, then select "A new window."
2. If you see this error code while Safari is not in Private Browsing, restart your Mac. You can restart your Mac by choosing Restart from the Apple menu.
3. If Netflix is still not working, restart your Mac in Safe Mode. Please follow the steps below:
Turn off your Mac.
Turn on your Mac and immediately press and hold the Shift key.
You will see a login window. Then release the Shift key.
Log in.
Open Safari and test Netflix again. Is it working now?
Now exit Safe Mode. Simply restart your Mac normally. Do not press the Shift key. And again launch Safari and test Netflix again.
4. if you are still having this problem, try removing Netflix data. Here is how:
Open Safari.
Click Safari > Preferences > Privacy. Then click the manage Website Data button.
Loading website data may take a few minutes.
In the Search field, enter Netflix.
Select Netflix and click Remove.
Now quit (Safari > Quit Safari) and reopen Safari and test Netflix to see if it is now working.
If nothing above solves your problem, you may want to contact Netflix. You may also want to use an alternate browser like Chrome.