Private Browsing lets you browse the Internet without saving your browsing history. There may be occasions when you don't want to leave a trace of your web browsing history.
You can easily turn on and off Private Browsing on your iPad or iPhone. Here is how:
Enable private browsing
1-Launch Safari
2-Tap the Pages icon (two squares icon).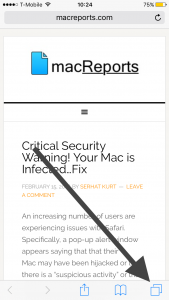 3-Tap Private.
When you enable the Private browsing mode, you will notice that Safari appears black instead of white.
If you do not see the Private icon, here is how you can fix:
However, blocking websites using the Restrictions menu will cause the 'Private' button to disappear.This means that, If you the "private" link doesn't show up, it is highly likely that Restrictions (aka parental controls) for websites is turned on. You need to disable website restrictions. Here is how:
1- Go to Settings > General > Restrictions (enter your passcode)
2-Tap Websites
3-Select "All Websites".
See also: How to Manage & Limit Cellular Data Usage On Your iPhone (iOS 9)