What Is Screen Time Password? How You Can Reset It
iOS 12 introduced a new feature: Screen Time. Screen Time lets you control how you spend your time interacting with your iPhone or iPad. This feature provides you with the information how you are using your time on your iOS devices. You get weekly screen time reports. This feature also lets you set time limits for apps. If you have a child, Screen Time also lets you set up various parental controls (like limiting screen times, apps and restricting content etc).
A lot of users have reported issues with Screen Time passcode. It seems that some users are having problems with remembering or recovering their Screen Time passcodes. This article explains how you can find your Screen Time passcode. Here is how:
iOS 11 and earlier versions have a similar feature called Restrictions. With iOS 12, Apple replaced Restrictions with Screen Time. Before upgrading to iOS 12, if you turned on Restrictions, Screen Time is enabled by default. Your screen Time password is your previous Restrictions password or your old Restrictions passcode and now your new Screen Time pass code. To put differently, If there was a Restrictions passcode  set up on iOS 11, once you upgrade to the iOS 12 version, iOS transferred the code to Screen Time in iOS 12 (Settings > Screen Time).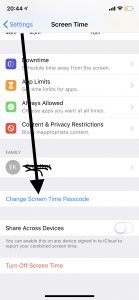 This means that if you want to disable or change your Screen Time passcode it, you will be asked a password. Simply enter your Restrictions passcode. If you never used Restrictions before, you may need to set up a passcode. You will be asked to enable Screen Time during the iOS 12 installation process. If you do not set up a passcode during the installation process, you can also turn on Screen Time later by gong to Settings > Screen Time, and enabling this will guide you.
See also: Can't Remove iOS Apps (No 'X' Button)?
Please note that this is not your screen unlocking passcode. That password is 6 digit. While your Screen Time passcode (or your Restriction passcode) is 4 digit. You will need this passcode if you want to update your old password or if you want to disable Screen Time.
If you do not remember your Restrictions passcode and thus you do not know your Screen Time, you have three options:
The first option is to try some common passcodes that you might use (like 0000). Do not repeat this a lot. Just try a few different passcode options.
you may want to erase everything and set up your device as new by going to Settings > Reset > Reset All Content and Settings. Again this will erase everything. And you must set up your device as new again. You cannot use your old backups because your backups will include your passcode too.
Another option is to use a third party tool. If you have previous iTunes backups (iOS 11 or earlier versions, iOS 11-iOS 8), you can use pin finder to recover your Restrictions passcode. Once you know your Restrictions passcode, now you can disable ot change your Screen Time passcode.
If you want Apple to know about this, you can send feedback to Apple.
See also: How To Delete Your iCloud Backups