What to Do When You Are Unable to Export in Preview
The Preview app is a simple graphic editor that comes with your Mac. One of its capabilities is exporting files to other common file types. Exporting a file in Preview involves saving the file in another format. It also involves converting the data of a document and saving the changes to it. This enables you to transfer your projects to other programs because other compatible programs will now be able to recognize and open the exported files. For example, you can use Preview to convert an HEIC image to PNG or GIF so that you can continue to edit it in more advanced image editing programs.
Currently, if you open the File menu in Preview, you will see two export menus: Export and Export as PDF. Sometimes, from the user reports, it seems that these export options do not work, and users get error messages like "document could not be exported/saved." In this article, I will show another hidden menu that you can use to convert files if the export option does not work.
Use Save As option in Preview if Export isn't working
While Save As and Export are different, you can use Save As as an alternative. This menu is hidden. Here is how you can use it:
Open Preview.
From the top menu bar, click File.
Then press the Option key on your keyboard. This will make the Duplicate option turn into Save As. Select it.
This will open the Save As menu. From the Format drop-down menu, select the file format you want. Available formats are HEIC, JPEG, JPEG-2000, OpenEXR, PDF, PNG, and TIFF.
Then click Save. This will create a new file in the selected format. Your original file will also continue to exist. Changes will not be saved to the original file.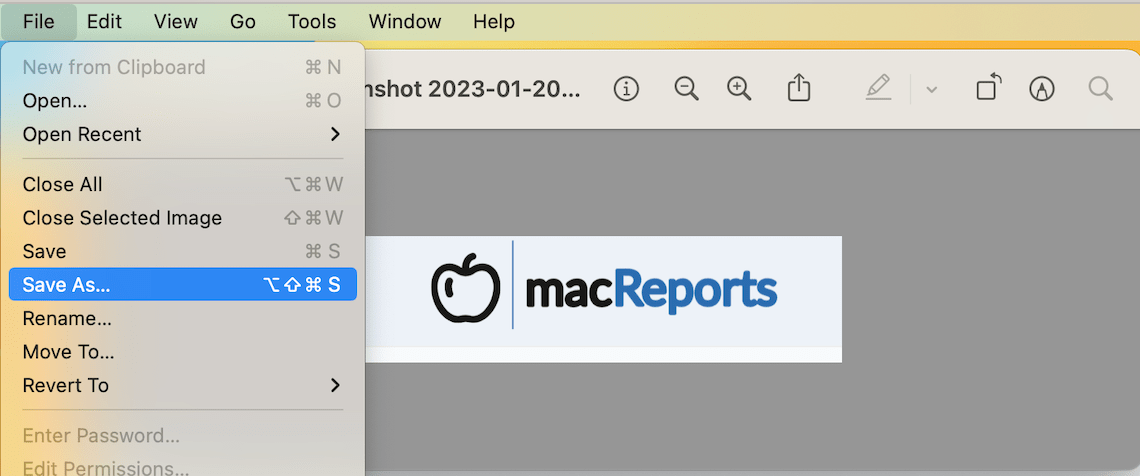 If you do not want to use Save As
Some users have said that after using Save As once, the Export option started working again. You can try that too. We previously wrote about how you can troubleshoot Preview problems. If you want Export to start working again, you can try these basic troubleshooting tips:
Quit Preview, then open it again and try to export.
Restart your Mac.
Ensure that your Mac is up to date. Since Preview is part of the macOS software, updating Mac will also update Preview.
Restart your Mac in Safe Mode. Test Preview in Safe Mode, then restart your Mac. Test Preview again.
Related articles