Mail: Hand Icon, What Does It Mean?
You may see a hand icon on your email messages. This hand icon may appear in the iOS and macOS Mail app. This article explains what the hand icon means that you may see on your iPhone, iPad, and Mac.
See also: iOS Mail: No Sender & No Subject Bug, Fix
The hand icon may appear next to the sender's name on your email messages as you can see below: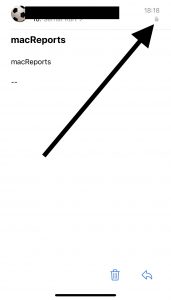 This hand message means that you received this email from a sender who is in your 'blocked' list.
When you block a contact, she or he can still email you, and when you receive an email from a blocked contact, a hand icon will appear indicating that you blocked this contact.
If you think that the hand image is there for no reason because you did not block the contact, it is highly likely that you accidentally blocked the contact. But do not worry, blocking is not permanent and you can always unlock as easy as blocking.
See also: Mac Mail App Opens Itself Randomly, Fix
You can unblock this contact by going to Settings > Mail > Blocked. This screen will show your blocked contact list. You can remove a contact by tapping the Edit button. You can also unblock a contact by swiping left and then tapping the red Remove button. You can also unblock a contact by going to Settings > Phone > Blocked Contacts. Then tap edit and tap the red minus icons to remove them.
Once you unblock the contact, the hand image will disappear from the old email messages.
A blocked contact cannot call, FaceTime or text you.
See also: How To Delete Spam & Trash (Instead of Archiving) Fast in iOS (Gmail)