MagSafe Charging not Working, Fix
MagSafe is the charging technology that first became available with the iPhone 12. MagSafe is both a mounting and a charging system; it includes a magnetic component that is used to secure the iPhone to the MagSafe charger and to attach MagSafe accessories like cases. Some users have had trouble charging their iPhone 12s with their MagSafe chargers. Users affected by these difficulties report that although their iPhone is connected to the MagSafe charger via the MagSafe magnet, their iPhone is not charging. In this article, we will give some troubleshooting tips to deal with MagSafe charging issues.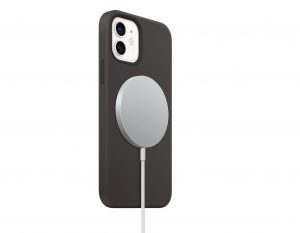 See also: Your iPhone Gets Hot? Why and How To Fix
About MagSafe
MagSafe chargers use the same Qi charging technology that other wireless chargers use. iPhone 12 can be charged wirelessly using either standard Qi chargers or a MagSafe charger. With a MagSafe charger, however, you are able to charge at 15 W of power vs around 7.5 W for the standard Qi wireless charger. MagSafe chargers can also be used to charge other Qi compatible devices such as other iPhone models and AirPods.
MagSafe Charging Tips
Place charger face up on a flat surface.
Make sure there are no metal objects nearby.
Use a USB 3 power adapter capable of at least 12 W, preferably 20 W, or connect the USB-C to your Mac.
Remove any cases that are thick or contain metal.
See also: How To Optimize And Extend The Battery Life On iPhone
How to Fix
After updating to the latest iOS, and doing a force restart, if you are still having trouble, you will want to determine if the problem is with:
Your MagSafe charger
Your iPhone 12
The MagSafe charger/iPhone 12 as a charging pair
See also: How to Fix When your iPhone Won't Charge or Charges Slowly
Update to Latest iOS
Many users have reported that updating has solved the problem for them. If your iPhone is not running the latest iOS, you should update. Go to Settings > General > Software Update and install any available updates.
Force Restart
Many users have found that a force restart will resolve the issue.
Press and release the volume up button, then immediately press and hold the volume down button.
While holding the volume down button, press and hold the side button.
When the Apple logo appears, release both buttons.
Check Your Charge Adapter
A MagSafe charger should be connected to a power adapter capable of at least 12 W. It works best with a 20 W capable adapter. If you are having trouble try plugging into another adapter.
Check the MagSafe Charger
You will want to know if the problem is with your charger. Try charging a different wireless device with your charger. Of course it would be best to test out another iPhone 12, but any device with wireless charging capabilities can at least test that the MagSafe charger can function as a standard wireless charger.
Check your iPhone's wireless charging ability
Try to charge your iPhone 12 using another wireless charger.
Look at Battery Optimization Settings
If your iPhone 12 is charging, just not fully, you may be seeing the effects of Optimized Battery Charging. Optimized Battery Charging is a setting that makes it so your battery doesn't charge past 80% until shortly before your iPhone thinks you will take it off the charger. The idea is that it is best for your phone's battery not to spend so much time in a fully charged state. Optimized Battery Charging is on by default. If you would like to turn it off, go to Settings > Battery > Battery Health and tap the toggle switch next to Optimized Battery Charging.
Apple Support
If none of the above tips have worked for you, you may want to contact Apple Support. You may decide to make a Genius Bar appointment so that an Apple Tech can take a look at your iPhone 12. If you are unsure of your warranty status, take a look at our article: How To Check Your Apple Warranty Status.
Recent Articles: