View & Manage Your Location History On Your iPhone (Significant Locations)
This article explains how you can manage and view the location history on your iPhone. This iOS feature is called Significant Locations, and it is part of Location Services. Your iPhone tracks and saves where you go if this setting is enabled. In fact, the iPhone keeps a map of your exact locations that visited the most often.
Your phone uses GPS and Bluetooth to determine your location. When this is turned on, you may see many benefits including personalization of apps like Maps, Reminders, Photos, etc. For example, iOS may use this to create Memories in Photos or Siri may use this to make location-based suggestions.
This feature is kind of hidden. It is buried inside Settings. So it is very understandable if you were not aware of this feature.
In case you are wondering, this data is stored on your device and encrypted. If you are worried that Apple is keeping a log of your movement, do not worry, that is not the case. Outsiders cannot see this info including Apple. Apple cannot see this data, and this section is locked and you (or anybody who has your phone) cannot access this section without getting past a Face ID or Touch ID lock first or by typing in your passcode.
Please see this article if you think Location Services is not working properly and if you are having with Location Services.
Turn location history (or Significant Locations) on or off
By default, when you enable Location Services on your device, Significant Locations will also be enabled. However, you can enable or disable Significant Locations (even if Location Services is enabled) to prevent your iPhone from saving the places you're located most frequently. Here is how:
On your device:
1. Tap Settings
2. Tap Privacy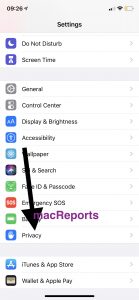 3. Tap Location Services
4. Scroll down and tap System Services. (You probably see arrow icons, this article explains what they mean)
5. Scroll down and tap Significant Locations. As you can see below, mine saying "On", that means it is enabled. As stated above, this section is locked and you will have to authenticate yourself to go further, via Face ID, Touch ID, or by entering your passcode.
6. To turn off, toggle this off or on the switch next to Significant Locations, depending on your choice.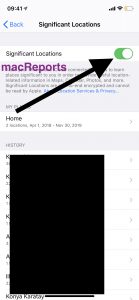 How to view, manage and delete location history
See also: Maps: 'Show Parked Car Location' Not Working? Fix
You can easily manage and delete your location history. Again go to Settings > Privacy > Location Services > System Services > Significant Locations. You will see two sections called My Places and History. This is your location history.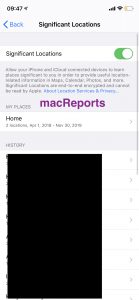 To clear your history, scroll down and tap Clear History. This will delete all of your history at once.
You can also delete an individual location entry. To do that, tap a history that you want to delete, then tap Edit and tap the minus (-) icon to delete. You can also swipe left to delete.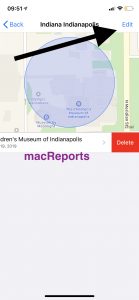 Some history entries (this is also called visits) may have the Photos app icon next to them. This means that this entry is being used to improve Photos Memories.
Please note that when you delete your location history information, you won't be able to see your significant saved locations. However. new locations will be saved going forward, unless you disable Significant Locations.
See also: How To Remove Location Data When You Share Photos and Videos