How To Remove Location Data When You Share Photos and Videos
You can take great photos and videos with your iPhone. Furthermore, you can easily share photos and videos with others from the iOS Photos app. By default (you can disable this, see below), your pictures and videos will have embedded location information (GPS data) because your iPhone embed GPS coordinates (the location where they are taken) in each photo and video you take. This data is called "metadata" or the "EXIF data". This info is stored within the image or video file itself.
See also: How To Share Photos, Videos, Or Voice Messages in Messages
This means that you may be sharing your location information when sharing photos and videos. You may want to hide this information when sharing photos and videos. If you want to do this, then this article is for you. This article explains how you can send and share your photos and videos with undisclosed locations. This way you can prevent anyone from locating the exact location where the videos or pictures were taken. Because this is a potential privacy and security risk. For example, a criminal can use this information to figure out a lot of details about you.
See also: My Photo Stream Not Working On Mac, Fix
Disable location data when sharing photos and videos
See also: What Does Arrow Icon Mean? Location Services Explained
1. Open the Photos app
2. Find the photo or video you want to share and tap Select, or you can open an individual photo to share
3. Select one or more photos or videos
4. Tap the Share icon
5. At the top of the screen, you will see a message saying "Location Included"
6. Tap Options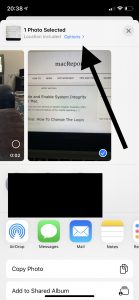 7. Toggle off Location (under the Include section)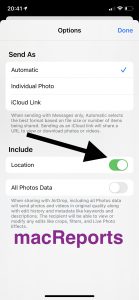 8. Tap Done
9. Select the way (Airdrop, Mail, Messages, etc.) you want to share your photo or video.
Disable location services
Do you want to remove the geotags from the photos or videos? As stated above, this is enabled by default.  This is how you can stop your iPhone from saving your location when you snap photos or videos. Please note that when this is disabled, you will not be able to see where your videos or photos were taken and you will not be able to sort and view your photos or videos by location when you are browsing your camera roll.
Here is how:
1. On your iPhone, tap Settings
2. Tap Privacy
3. Tap Location Services
4. Tap Camera
5. Select Never.
See also: