Red Exclamation Point On AirPods, Fix
Several AirPods and AirPods Pro users are reporting that they see one of the earbuds to show a red exclamation point. This article explains how you can fix when you notice the red exclamation mark next to your left or right AirPod on the connection screen when checking the status, instead of the left or right indicator letter. You can see this below: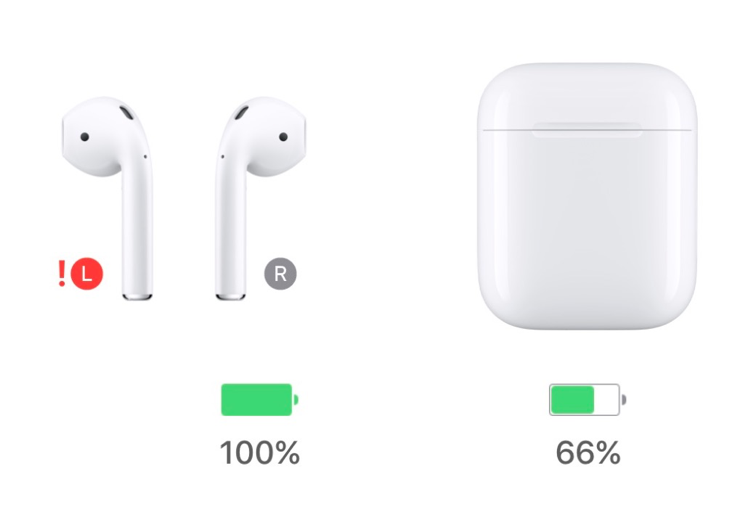 This problem may affect AirPods and Airpods Pro. It seems that this is a minor issue and does not affect the sound or the charge. Users seeing this red exclamation point reports no issue, the AirPods are working as expected. But still, you may find this annoying. And of course, you may want to get rid of them.
See also: AirPods Sound Volume Issues, Fix
'Red exclamation points' error fix
Please try each step until your issue is fixed:
1. Clean if necessary. There may be some lint, dirt or debris in the charging case. Check the bottom connector. Do you see any debris? Try cleaning the contacts with a dry tissue.
2. Restart your iPhone. Here is how:
iPhone X or 11: Press and hold the volume up (or down) and the side buttons together until you see the power off slider. Then slide the slider. Wait about 30 seconds. Then press and hold the side button until the Apple logo appears.
Other iPhone models: Press and hold the side (or top) button until you see the Apple logo. Then slide the slider. Wait until your phone completely shuts off. Then press and hold the side or top button until you see the Apple logo.
3. Update your iPhone. Make sure that your iPhone has the latest iOS software version. You can update your phone wirelessly if there is an update available. To check for updates, go to Settings > General > Software Update. And if there is an update, tap Download to update. Then follow the onscreen instructions.
4. Update your AirPods. Ensure that you update your AirPods to the latest firmware version. AirPods updates are automatic. Your AirPods will update when the following conditions are met:
‌Your AirPods are‌ in their charging case
The case is plugged in
Your iPhone is placed near the case
AirPods firmware updates may fix your issue.
See also: AirPods Are Connected But There Is No Sound
5. Follow the steps below. This will reset your AirPods:
First, we will forget the AirPods. On your iPhone, go to Settings > Bluetooth
Tap the blue "i" icon next to the AirPods in the devices list
Tap Forget This Device, you will see a prompt, tap Forget Device
Put the AirPods in the charging case and close its lid and wait about 30 seconds and after that open the lid
With the lids are open, press and hold the setup button on the back of the case until you see the status light flashing white (it will flash amber first then white so wait)
Now reconnect your AirPods by using your iPhone. Place your AirPods close to your iOS device. Then follow the instructions on your screen.
6. Reset network settings on your iPhone. Please note that doing so will erase your network settings like your Wi-Fi password etc. To do that go to Settings > General > Reset > Reset Network Settings.
If your issue is still not fixed, contact Apple. You may want to make a Genius Bar reservation to explain the problem. You may have a hardware problem.