What Does Alarm Clock Icon On An App Mean (iPad)?
You have seen this alarm clock badge (or icon), see the image below, on an app in the dock on your iPad and you are wondering what that exactly means? It is probably troubling you because of these reasons (a) you did not place the app in the dock, so why is it there, why it is placed there? (b) why does it have this alarm clock icon? This article explains what the little alarm clock icon on an app means and how you can disable it if you want.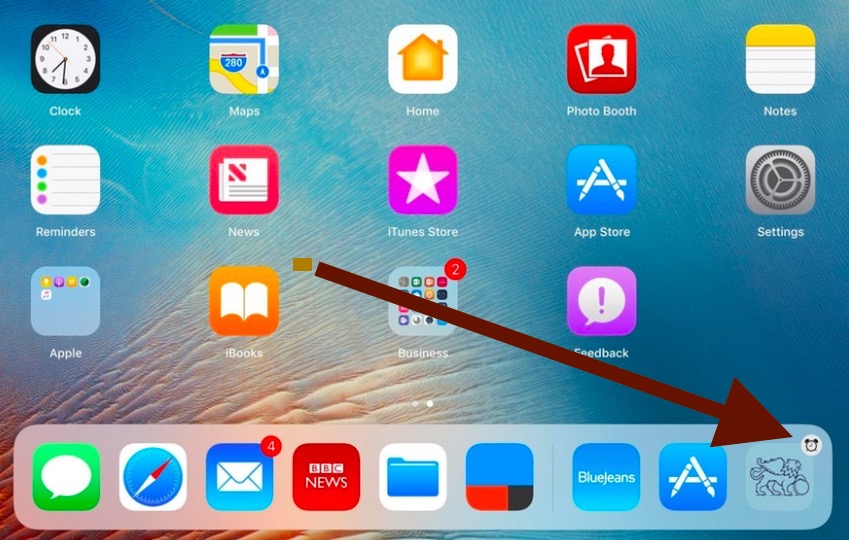 See also: Crescent moon icon?
Let's first describe in what ways this icon appears:
An app appears with a little clock on it (see the image above)
It appears at the top right of the apps in the dock on the right side on your iPad
It may be an app that is not pinned to the dock
Not exclusive to any specific app
See also: Red Dot on Apple Watch
The new iPad dock
Your iPad has various status icons and symbols. This small alarm clock symbol is one of them. It is not tappable. You may think that it appears randomly. But it does not.
The newly updated iOS brought a much-improved user experience to the iPad, including a new dock. The new iOS uses complex algorithms to learn your habits. iPadOS (and Siri) has learned, using machine learning, that you often use this app at this time of the day.  iOS has further learned your previous usage patterns. Based on this information, iOS is trying to make it easier for you to use this app by placing it in the dock on the right side so that you can easily open this app. Siri thinks you want to use this app. It is simply a reminder kind of thing. It does not have any other function.
See also: Unable to Install Update
iOS will suggest apps based on your app usage habits. For example, if you use the Facebook app every day at 5 pm, the Facebook app with alarm clock symbol will appear at the far right of the dock. The clock indicates that you have used the Facebook app before at this time, so iOS is suggesting that you may want to use it again.

Do you want to turn off this feature? You do not want to see this suggested app and you do not want to see the little clock badge? Here is how:
On your iPad, tap Settings
Scroll down and find Siri & Search
Find the Siri Suggestions section
And then toggle off "Suggestions in Search" and toggle off "Suggestions in Look Up".
You can also disable suggested apps. Here is how:
Tap Settings
Tap General
Tap Multitasking & Dock
And then toggle off "Show Suggested and Recent Apps."
See also: Siri not working?