Red Dot on Apple Watch? What Does It Mean?
Do you notice that a red dot appears at the top of your Apple Watch screen? And you are wondering what that means. This article explains what the red dot that appears at the top of your watch face means.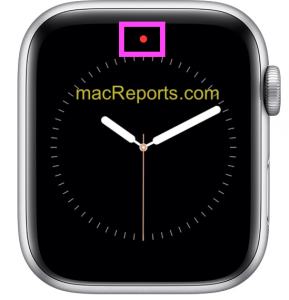 The red dot symbol is one of the watchOS status icons. Your Apple Watch displays several status icons at the top of the screen. These status icons are designed to let you know that some event has happened, e.g., an airplane icon will be displayed when AirPlane mode is enabled.
See also: Text Message Notifications Not Working On iPhone When Paired With Apple Watch
Red dot
The red dot at the top of your watch face means that you received a notification. This icon is a notification indicator. More specifically, this red dot will appear when you have an unread notification. You can view and read the notification by swiping down. Then you can view your notifications list. You can then swipe up or down (or use the Digital Crown) to scroll. Then the red dot will disappear. You have two options:
You can respond to a notification by tapping it.
You can clear notifications by swiping them to the left and tapping the X button.
If you dismiss a notification on your watch, it will also be dismissed on your phone. See this article if Apple Watch is not getting Notifications from your iPhone.
Your Apple Watch offers a unique benefit. That is you can see your notifications without needing to pick up your iPhone. By default, your Apple Watch notification settings are mirrored from your iPhone. However you can change this setting:
On your iPhone, open the Apple Watch app.
Go to My Watch, then tap Notifications.
And select an app to customize its notification settings.
Most apps will have two options. You can select "Mirror my iPhone" or "Custom". And if you tap Custom, you can customize.
See also: My Apple Watch Won't Turn On, Fix
Turn off red dot
This customization explained briefly above will let you turn off the red dot for notifications if you do not want the icon to appear.
On your iPhone, open the Apple Watch app.
Tap Notifications.
And toggle off Notification Indicators.
If you want to see the red dot again, you can turn this on later.