iPhone Proximity Sensor Not Working? (Screen Is Not Going Black) Fix
Several users have reported that they are having issues with the proximity sensors. Some of the reported problems are listed below:
The proximity sensor is too sensitive.
The proximity sensor is being triggered for no apparent reasons.
Your iPhone screen is not shutting off when you hold your phone up to your ear during a call.
Your phone is still showing a black screen even after finishing your conversation,
Your iPhone uses the proximity sensor to detect the presence of your face, ear and cheek when you are on a call. Your iPhone does this because of two main purposes: Reduce display power consumption and thus save battery life by turning off the screen light and to disable your iPhone's touch screen to avoid inadvertent and unwanted inputs by your face.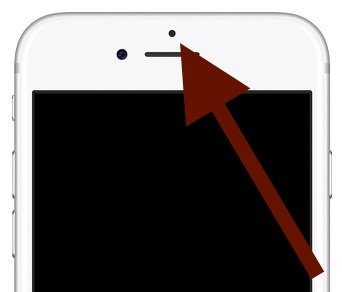 If you are having this problem, do you think that your iPhone's proximity sensor is not working correctly? do not worry, you are not alone. This articles explains what to do when the proximity sensor is not working.
See also: Black iPhone Screen
First of all, please note that there is no setting for the proximity sensor on your iPhone. This means that you cannot turn off the proximity sensor. Note that this is different than "Raise to Wake". Raise to Wake lets you see your lock screen (display wakes up) when you raise your iPhone up. You can turn off and on this (this is on by default) by going to Settings > Display & Brightness.
Make sure that your iPhone's case or screen protector does not obstruct with the proximity sensor activity. Try removing the case to see if that fixes your problem.
Restart your iPhone. You can do so by going to:

Settings
General and scroll down
and then tap Shut Down
Then turn your iPhone back on

Force restart your iPhone. Do not worry, this does not delete your content on your iPhone. Here is how:

If you own an iPhone X, iPhone 8 or iPhone 8 Plus: First press and release the volume up button and then volume down button and then press and hold the side button until the Apple logo appears.
If you own an iPhone 7 or iPhone 7 Plus: Press and hold the side and volume down buttons together until you see the Apple logo
Other iPhone models: Press and hold the side and home buttons together until the Apple logo appears.

Update your iPhone to the latest version of iOS version. You can do so easily and wirelessly (you can also do so via iTunes). If you want to do this wirelessly, make sure that your iPhone is connected to a Wi-Fi network. Then tap:

Settings
General
Software Update
Tap Download and Install
If you are having this because of a hardware problem, e.g. because of a drop or water issue, contact Apple. Your device could be covered under warranty. You may want to make a Genius appointment.