What Does it Mean when Apple Pay Says 'Fraud Suspected'?
You may receive a Fraud Suspected warning when you want to send money using Apple Pay. This alert message appears after pressing the Send (arrow) button to send money in the Messages app on your iPhone or iPad. In this article, I will explain why you see this message and what you can do about it.
On your device, you can use Apple Pay in the Messages app to send or receive money. Apple Pay will use your Apple Cash account or a debit card you have in Wallet. You can send or receive up to $10,000.
Why you see a 'Fraud Suspected' alert message
You may see a fraud alert message just before you send money. Apple uses fraud prevention technology and artificial intelligence to spot suspicious transactions in real-time. This message is Apple's way of helping keep your funds safe.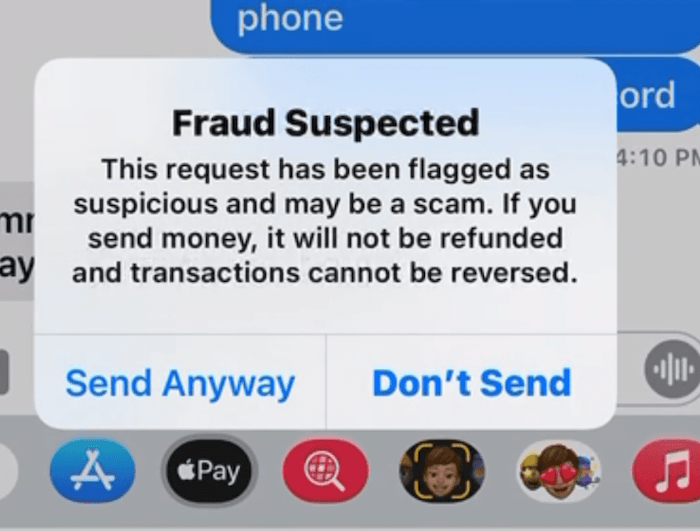 As you can see, the alert says:
This request has been flagged as suspicious and may be a scam. If you send money, it will not be refunded and transactions cannot be reversed.
There are several important points to consider:
This is simply a warning that the transaction is raising a red flag in the system. It is just that something is suspicious, and Apple wants you to be careful before sending money. Apple uses various technologies to spot fraud in real-time. There can be several causes for this message. For example, some details of the transaction may have previously been reported as fraud.
This does not prevent you from sending money. You can Send Anyway and the money will go to the recipient. But before doing that, you should note that these types of transactions are like sending cash; after it has been sent, you cannot get it back.
If the person you are trying to send money to is a stranger, no matter the reasons they give you, take this alert message very seriously. If this is the case, tap Don't Send to cancel the transaction. Do not be a victim of a scam. The Federal Trade Commission explains how you can identify a scam. You may want to check it out.
If the person you are trying to send money to is someone you trust, tap Send Anyway, and the money will be sent. Apple recommends sending money only to people you know. Verify and double-check everything before pressing the Send Anyway button.
What to do after approving a 'Fraud Suspected' transaction
So you did not listen to Apple when they said "Fraud Suspected" and sent the money. If you sent the money anyway and then realized it was, in fact, a fraud, I recommend you do the following:
First of all, it is highly likely that you won't be able to get the money back. Apple Pay is instant and cannot be cancelled after you send it.
If you used your debit card, report it to your bank.
You can also report it to your local police department.
Check out this article where we explain How to Avoid Scams and Dispute Charges using Apple Pay.
One of the most common scams involves someone requesting a small amount of money in exchange for a larger amount of money in return. If something sounds too good to be true, it is probably a scam. Take the "Fraud Suspected" warnings seriously to help avoid being the victim of a scam.
Related articles