What to Do if your Apple Cash Account is Restricted or Locked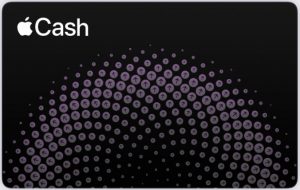 If your Apple Cash account has been restricted or locked, you may want to regain access to your Apple Cash quickly. Some people rely on Apple Pay to send or receive money. If you have a large balance in Apple Cash, you might be getting nervous about not having access to your money. You may be wondering why your account is restricted. You might also be annoyed by the inconvenience, especially if your account has been locked and you have lost all of your ability to access your funds. In this article, we will cover the steps you need to take to regain access to your Apple Cash account.
See also: Apple Pay Disabled on Mac Because Security Settings were Modified, Fix
A Restricted or Locked Apple Cash
There is a difference between a restricted and a locked Apple Cash account.
See also: Could Not Set Up Apple Pay, An error occurred while setting up Apple Pay, Fix
Restricted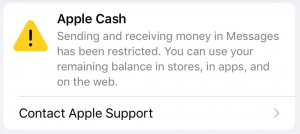 If your Apple Cash account is restricted, you can still transfer your balance to your bank. You can also make purchases in stores, online and in apps. You can't transfer money in Messages, however.
See also: A Complete List Of Stores That Accept Apple Pay
Locked

If your account is locked, you can't do anything with your Apple Cash until the problem is resolved.
See also: Using Apple Pay: How to Avoid Scams and Dispute Charges
Why your Account may be Restricted or Locked
Here are some (but not all) of the reasons your Apple Cash may be locked or restricted.
If you are under 18, your parent may have locked your Apple Cash.
You may need to verify your identity in order to add or receive more than $500 to your Apple Cash account.
If an unauthorized use of your account is suspected.
Your Apple ID has been suspended or terminated. See: Your Apple ID Disabled Error, Fix.
You are suspected of using the Apple Cash service for illegal or otherwise objectionable activity.
Apple Cash services are provided by Green Dot Bank or Apple Payments Inc. As stated in their terms and conditions, they reserve the right to limit, suspend, or terminate your use of Apple Cash services for a variety of reasons.
See also: How to Set Up Family Sharing
Verify your Identity
Most of the time, you can remove a restriction from your Apple Cash by verifying your identity.
See also: How To View And Download Apple Credit Card PDF Statements
Open your Apple Cash Card

To see your options for resolving the issue, go to your Apple Cash card:
On iPhone: Open the Wallet app and tap on your Apple Cash card. Tap on the circle with three dots .
On iPad or iPhone: Go to Settings and tap on Wallet & Apple Pay. Tap on your Apple Cash card. Tap on Info.
See also: How To Remove, Update Or Change Your Apple Payment Method
Complete the Identity Verification
You should see a couple of options: Verify Identity and Contact Apple Support. Tap on Verify Identity.
Follow onscreen instructions. When you are capturing the image of your Drivers License or state ID:

Set your card on a dark surface/background.
Make sure the entire card is captured.

To verify your identity, you may be asked for the following:

Social security number
Date of birth
Address
See also: How to Dispute an Apple Card Charge
What if you Can't Answer Some of the Identity Verification Questions
If you can't verify your identity, you will not be able to use all of the Apple Cash features. You should still be able to use your Apple Cash to make purchases and you should be able to transfer the money to your bank. If you can't, and your Apple Cash is locked, you should contact Apple Support.
If Verifying your Identity Fails
If verifying your identity is failing, and you are certain the information you are entering is correct, you may try the following suggestions.
Sign Out and Back In to your Apple ID
To sign out of your Apple ID on your iPhone:
Close all of your open apps to ensure that your files and data have synced to iCloud.
Go to Settings.
Tap on your Apple ID name at the top of the list.
Scroll down and tap on Sign Out.
Enter your Apple ID password and tap Turn Off.
Choose to keep your data on your iPhone.
Tap Sign Out. Tap again to confirm.
See also: How To Remove A Device From Your Apple ID Device List
To sign back in:
Go to Settings and tap on Sign in to your iPhone.
Enter your Apple ID and password.
You may need to enter a code sent to another one of your devices.
Reset Settings
If resetting your settings doesn't help, it will be nice to have a backup of your iPhone so that you can restore your settings without re-entering them manually.
Backup iPhone.

iCloud: Go to Settings. Select your Apple ID from the top of the list. Select iCloud, then scroll down and select iCloud Backup. Tap Back Up Now
Computer: Connect your iPhone to your Mac (or PC.) In Finder (or iTunes) select your phone icon in the left sidebar, choose your backup options, then click Back Up Now.
Resetting all settings will remove your network settings, your Apple Pay information, keyboard dictionary, Home Screen layout, location and privacy settings.
Go to Settings > General > Reset.
Tap on Reset All Settings. If necessary, enter your password and tap to confirm the Reset.
Contact Apple
If you are unable to get your Apple Cash working again, you should contact Apple Support.
Related Articles: