iPhone Says: Spam Risk, Fraud, Scam Likely: What Do They Mean?
So 'Scam Likely' or 'Spam Risk' is calling you? And you are wondering who that is and if you should answer the call? The answer is it is probably a telemarketer, a scammer or a robocall. This is how your wireless carrier is letting you know that this call is a high-risk unwanted call. You should not answer the call and let your voicemail get it.
When you get a call from likely fraudsters, your iPhone's Caller ID will alert you. Answer these calls at your own risk. And if you answer it, see below.
See also: Apple ID Accounts: Scam Emails and Texts
Nobody wants unwanted scam calls and spoofed robocalls. Phone scams are an important problem and a lot of people lose a lot of money. Scammers are trying to get your money or your personal information.
Recently new technologies The STIR (Secure Telephony Identity Revisited) and SHAKEN (Secure Handling of Asserted information using toKENs) were implemented by major wireless carriers to combat illegal caller ID spoofing. STIR/SHAKEN is designed to verify the caller ID information that appears on your iPhone by ensuring that a call is from the number that's calling.
See also: How To Stop iCloud Calendar Spam
How to stop iPhone scam calls
Scammers are probably calling you too.
Fortunately, your iPhone comes with built-in features that can help you fight against scam calls. On your iPhone, you can turn on a feature called Silence Unknown Callers to help you block unwanted calls. This is turned off by default. When you turn this on:
As the name implies, calls from unknown numbers will be silenced meaning your phone will not ring or vibrate, instead, they will be sent voicemail. They will also appear on the 'Recent' list so you can check to see your missed calls.
Unknown numbers are not in your contacts list.
Here is how you can enable Silence Unknown Calls.
On your iPhone, tap Settings.
Tap Phone.
Scroll down and find the Call Silencing and Blocked Contacts section.
Turn on Silence Unknown Callers.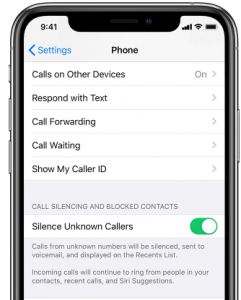 You can also block calls on your iPhone one by one. Carriers can almost always categories incoming calls as spam, robocalls or fraud calls. However, it may not always work. This could be a good option if your carrier could not tell the caller is a spammer:
Open the Phone app on your iPhone.
Tap the (i) info icon next to the number you want to block.
Scroll down and tap Block this Caller.
Please note that when you block a caller, they can still leave you a voicemail.
You can see and modify your blocked contacts by going to Settings >Phone > Blocked Contacts.
What do to when you get calls from scammers
Do not answer these calls. Sometimes you may accidentally answer a call when you should not.
If your iPhone Caller ID says "spam" or "scam" or anything similar, do not answer it.
You can recognize robocalls easily. If you hear a recorded message instead of a live person, it is a robocall. Hung up. Do not respond to any questions, do not press any buttons.
Do not trust your Caller ID. Spoofing means spammers can make any number or name display on your phone.
If you receive calls from unknown numbers, do not answer, or hang up immediately if you answer.
Never share personal information such as your passwords, social security number, mother's maiden name, etc.
Scam artists often pretend to be global tech companies (like Netflix), big banks (like Chase, Bank of America), government agencies (like the FBI) or the IRS. Do not believe them. Hung up. If you want, you can later find the real number (you can find it online from their website) to verify the authenticity of the caller.
You can stop telemarketer calls by registering your number on the Do Not Call List. This is a free service.
Contact your wireless carriers as they may offer additional services to avoid unwanted callers.
You can also report unwanted calls at https://www.ftccomplaintassistant.gov/.
There are also other types of scams.