Activity Monitor Columns Are Missing, Fix
Activity Monitor is one of those essential applications that I use frequently. Activity Monitor has a five-category tabs at the top of the Activity Monitor window: CPU, Memory, Energy, Disk, Network, and Cache. Each of these main categories includes subcategories called columns.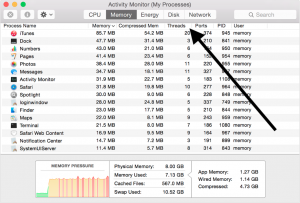 Sometime you may realize that some or all of the columns items are disappeared. Does Activity Monitor not show any columns? If you are having this problem, this short article explains how you can bring back the column items in the Activity Monitor app.
Please try each step one at a time until you resolve your issue.
Let us first state the obvious. As you probably know, you can add or remove columns by choosing View > Columns from the menu bar. Are columns selected? If not, select them and this will fix the issue.
Still, columns are missing? We will delete the Activity Monitor app preferences. Here is how:

First, quit the Activity Monitor app if it is running
Go to the Finder of Mac OS
Click the Go menu
Click the Go To Folder menu (shurtcut: Command+Shift+G)
This will open a window. In this window, enter the following command and click Go.
~/Library/Preferences/com.apple.ActivityMonitor.plist
This will open the Preferences window with com.apple.ActivityMonitor.plist selected.
Delete this file by moving it to the Trash
Now open Activity Monitor and check if columns are there.
See also: Mac Spotlight Search Not Working?