Rotating Arrows Symbol on iPhone or iPad, What Does It Mean?
Do you see a symbol of two rotating arrows in the status bar at the top of your iPhone or iPad screen? And you are probably wondering what this icon means. The purpose of this article is to give an overview of this icon and its meaning.

Obviously, since this two-arrow icon is spinning, it indicates that something is actively working. You may just not know what processes are running or what is your iPhone or iPad is doing.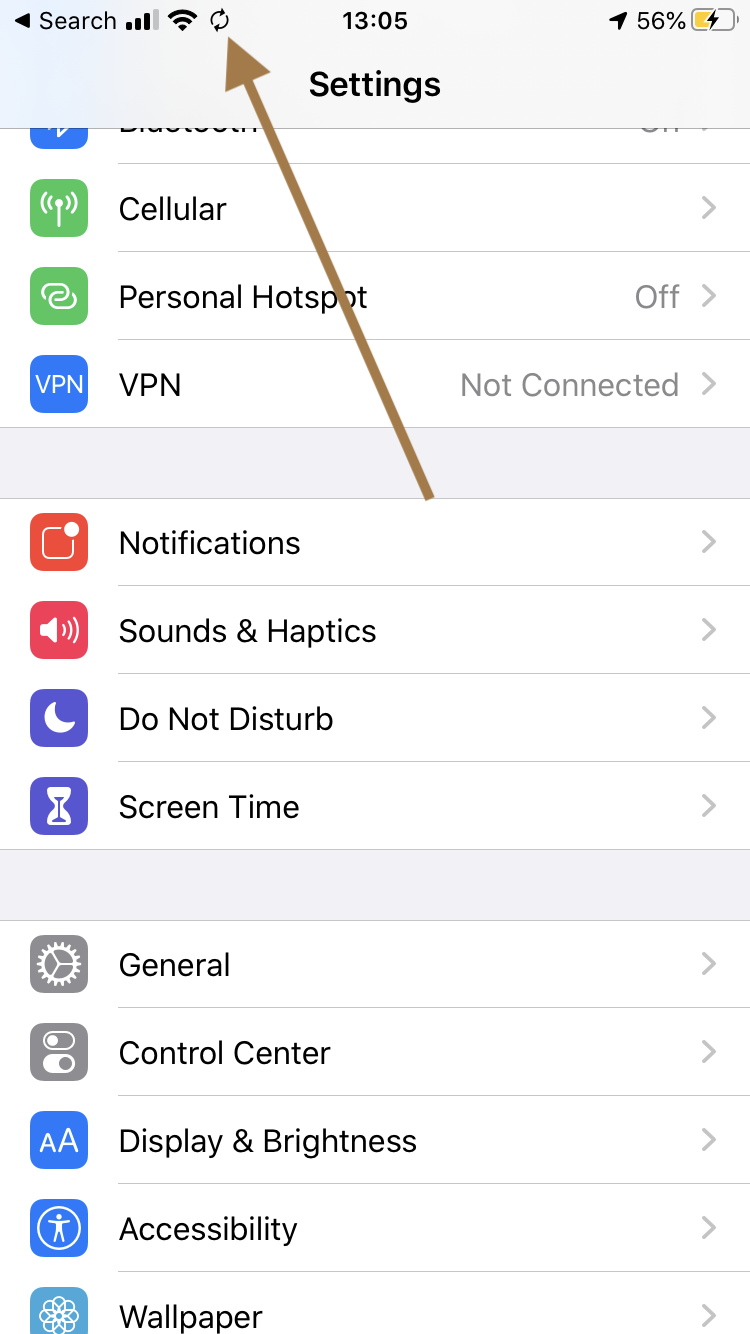 This symbol indicates that your iPhone or iPad is Syncing. And when your iPhone or iPad is syncing, it will display these spinning arrows. Syncing means that iOS or iPadOS is copying contents (videos, photos, books, albums, apps, etc) from your computer (PC or Mac) to your iPhone or iPad, and vice versa.
See also: Constant Spinning Wheel in the Status Bar on iPhone Issue
iOS or iPadOS syncing, a file synchronization service, is available for Windows and Mac operating systems. Syncing lets you keep your iPhone's or iPad's data backed up and up-to-date.
There are basically two types of syncing: Wireless and wired.
You can sync wirelessly with Wi-Fi.
You can sync by connecting the iPhone or iPad to your computer with a USB cable.
Wireless, or Wi-Fi, syncing
You will need to set this up before you can sync wirelessly. Your iPhone or iPad will show this icon when it is syncing wirelessly. And your device will sync wirelessly only after these two conditions are met:
When your computer and your iPhone or iPad are connected to the same Wi-Fi network. (If you are using macOS Mojave or earlier or a PC, then iTunes will need to be open on the computer).
When your iPad or iPhone is connected to a power outlet.
Then, your device will automatically sync. You can learn how you can set up wireless syncing below.
Wired syncing
As the name indicates, this occurs when you connect your device to your computer.
You can sync your iPhone or iPad using your computer. To sync, you will need to use Finder or iTunes depending on your macOS version or computer type (PC or Mac).
See also: What Does Alarm Clock Icon On An App Mean (iPad)?
Here is how you can sync:
Sync with Finder
If you are using macOS Catalina or later, you can use the Finder to sync your device. Here is how:
Connect your iPhone or iPad to your Mac.
Open a Finder window.
In the Finder sidebar, you will see your device.
Select your Device.
Decide what to sync and select the checkbox.
Click Apply.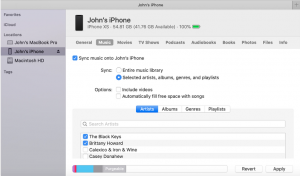 You can also turn on Wi-Fi syncing. Simply, select "Show this [device] when on Wi-Fi." and click Apply.
See also: Red Dot on Apple Watch? What Does It Mean?
Sync with iTunes
You can use this option if you are using a Mac with macOS Mojave or a PC computer.
Connect your device to your computer with a USB cable.
Open iTunes.
Select your device.
Select what type to content you want to sync.
Select the Sync box.
Click Apply.
If you want to turn on wireless syncing, simply select Sync with this [device] over Wi-Fi." and click Apply.
See also: Sync Google Contacts with your iPhone, iPad and Mac