AirPods Say 'Turn Off Until Tomorrow,' What Does It Mean?
You may have seen this message pop up on your iPhone. When your phone connects to your AirPods, you get a popup that shows you your AirPods and their case, their battery levels and a message: "Turn off until tomorrow." You may think, "Turn off what, exactly?"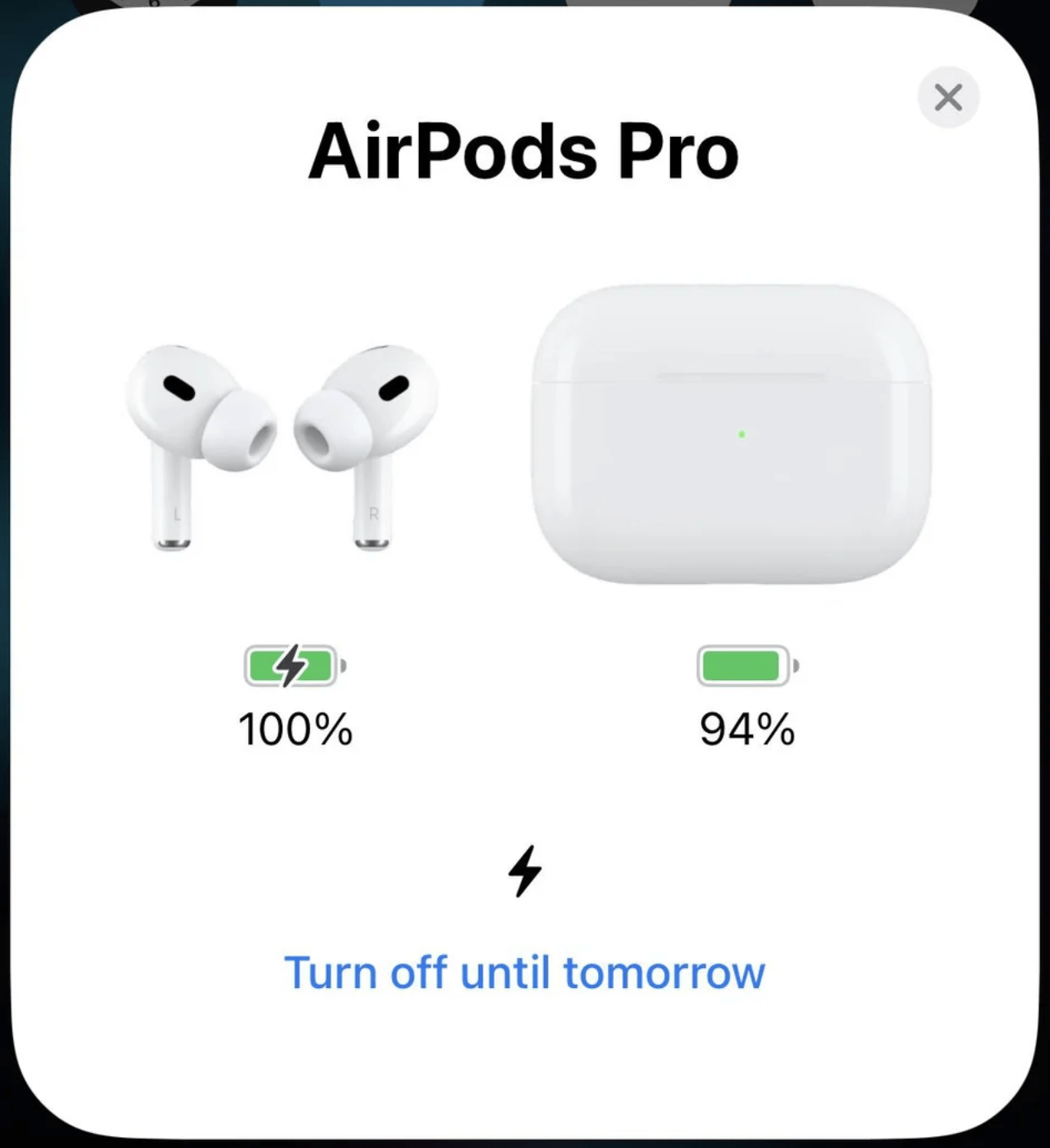 Although it isn't clear from the message, "Turn off until tomorrow" refers to Optimized Charging. The only thing that really indicates this is the little lightning bolt symbol above the message. Sometimes there is a message above the "Turn off until tomorrow" message. Something like "Optimized Battery Charging. AirPods scheduled to finish charging by 8:00 AM."
In this article, we'll tell you about:
Optimized Charging for your AirPods.
What will happen when you tap on "Turn off until tomorrow."
Why you might want to turn off Optimized Charging.
Optimized Charging on AirPods
What is Optimized Charging and why do AirPods have it?
Optimized Charging is available for AirPods Pro and AirPods (3rd gen). It is also available for Macs, iPhones and iPads. Optimized charging delays charging your device fully. The idea is that holding a full charge is hard on your device's battery, and the more time the device spends fully charged, the shorter the battery life will be.
When does Optimized Charging fully charge the AirPods?
You might wonder, if Optimized Charging delays the full charge, when will the AirPods fully charge? The answer is that the Optimized Charging feature learns your daily charging habits and predicts when you will next use your AirPods. Optimized Charging will allow your AirPods to fully charge shortly before it thinks you will use them. Until then, Optimized Charging will only allow your AirPods to charge to about 80%.
What happens when you tap "Turn off until tomorrow?"
Tapping this turns off Optimized Charging until tomorrow. That means your AirPods case can charge to 100%. If you know that you don't have a full charge but are going to be away from a charging source for a while, you might want to turn off Optimized Charging.
If you want to turn off Optimized Charging more than just temporarily, see the next section.
How to turn off Optimized Charging
You may find that Optimized Charging doesn't allow your device to be charged fully when you need it to be. You can turn it off from your iPhone Settings.
Grab your AirPods and open the case.
On your iPhone, go to Settings and tap on Bluetooth.
Tap on the info (i) button next to your AirPods.
Toggle the switch next to Optimized Battery Charging, then choose Turn Off.
Related articles