AirPods Keep Pausing While They're Still in Ears, How to Fix
Sometimes you may experience your AirPods pausing and then sometimes unpausing music on their own while you are wearing them. This can be quite annoying. If you are experiencing this, you may wonder why this keeps happening and how you can fix it. Your AirPods come with advanced intelligence technologies to improve your listening experience. Mostly these new technologies are welcome additions, but sometimes they may create glitches causing unintended results. It appears that this playback stopping issue occurs randomly on AirPods, AirPods Pro, and AirPods Max models. In this article, we'll tell you what you can do to troubleshoot the issue.
AirPods range
If you are too far away from the connected device (iPhone, iPad, Apple Watch, Mac, etc.), your audio may be interrupted. You should know that you can connect your AirPods to multiple devices you own. The optimal range is up to 30-60 feet or 10-18 meters. The range is greatly affected by nearby obstacles like trees or walls. Thus, ensure that you are not too far away from your connected devices.
Turn off automatic play/pause
The AirPods have sensors to detect if your AirPods are in your ears. If AirPods determine one of the AirPods is not in an ear, the music will be paused. And the next time you put it back into your ear, the music will resume. If you remove both of the AirPods from your ears, playback will be stopped but not resumed. If this is an AirPods Max, then there is a similar feature that makes audio automatically stop playing when you take them off and then start playing when you put them on.
This setting is enabled by default. Turn this off to see if this was causing your problem:
On your paired iPhone or iPad, go to Settings > AirPods (Or Settings > Bluetooth).
Tap the info (i) button next to your AirPods.
Turn off Automatic Ear Detection or Automatic Head Detection, if this is the Max model.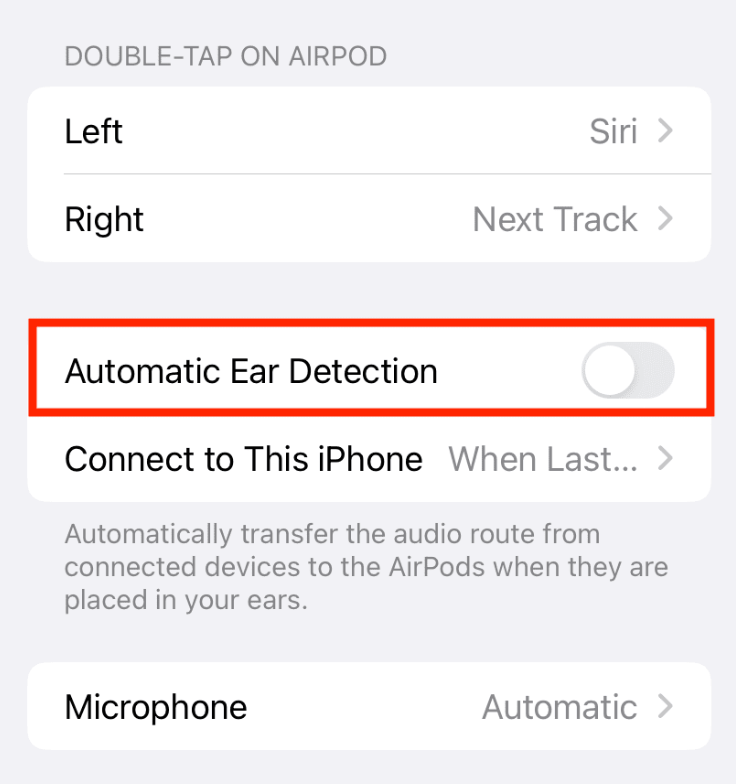 If this fixes the issue, it still may not be an ideal solution for you. Automatic Ear Detection is not only a useful feature, but it can also extend your AirPods' battery life. It is possible that ear detection sensors are not working because your AirPods are dirty. In the next section, I explain how you can clean your AirPods.
Clean your AirPods
Try to clean them by following these tips:
Do not try to clean it under running water.
Use a lint-free, soft and dry cloth and wipe your AirPods.
If necessary, slightly dampen the cloth with fresh water.
Ensure that the AirPods' openings are not exposed to water.
Using a dry cotton swab, try to clean the speakers and microphone openings.
Remove the ear tips, rinse with fresh water, dry with a soft cloth and reattach them.
Reset your AirPods
If your issue continues, reset them to factory settings. This may fix things if your issue is due to connection problems.
Reset your AirPods or AirPods Pro
Place your AirPods in the charging case and close the lid.
After 30 seconds, open the lid and put them in your ears.
On your iPhone, go to Settings > [your AirPods] or Settings > Bluetooth.
Tap the info (i) button next to your AirPods and then tap Forget This Device.
Then place your AirPods in the charging case, but do not close the lid.
On the back of the charging case, you will see the Setup button. Press and hold it until the status light flashes amber and then white (which takes about 15 seconds).
Now your AirPods are reset, now you will need to reconnect them. Keep your AirPods in the case and the lid open and then check your iPhone and follow the onscreen steps.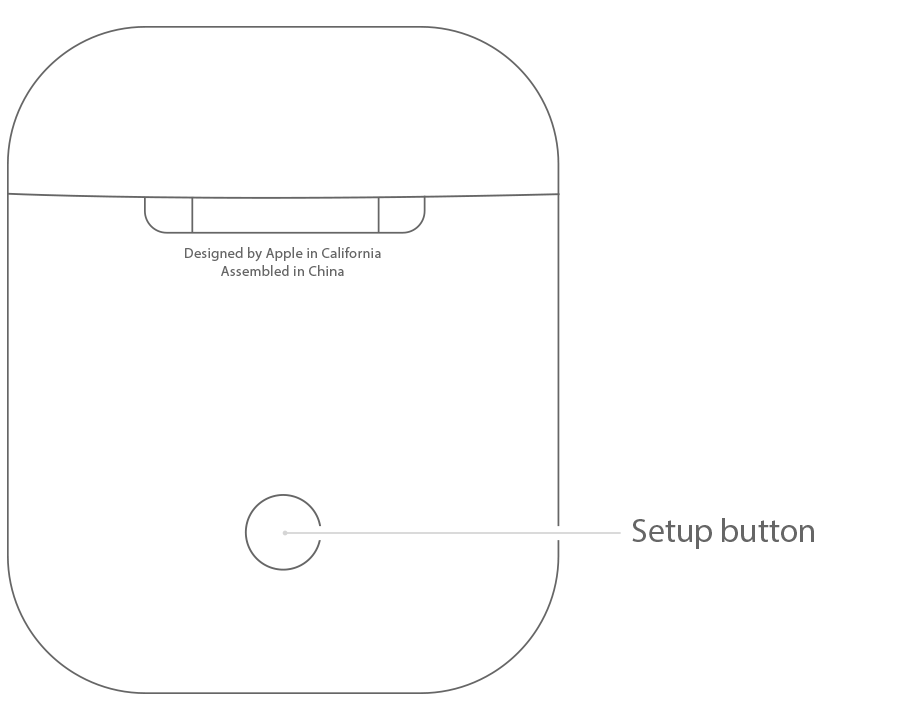 Reset your AirPods Max
Before resetting, try restarting to see if that fixes the problem. Here is how to restart:
Press and hold the Digital Crown button and the Noise control button together until the status light flashes amber. Stop holding the button when you see the amber light.
If restarting does not help, now reset:
Ensure that your AirPods Max have some charge.
Again press and hold the Digital Crown button and the Noise control button together until you see that the LED light flashing turns from amber to white.
When you see the white light, reconnect them by bringing your iPhone close by.
If your issue continues, you may be having a hardware problem. Contact Apple Support regarding service or replacement options.
Related articles