iPhone / iPad Popup Says Unable to Download Item, Fix
Several users have said that a popup saying "Unable to Download Item, please try again later" keeps appearing on the iPhone or iPad. The error message also contains "Done" and "Retry" button options. It appears that this message appears randomly and, many times, repeatedly. You can see the error screen below: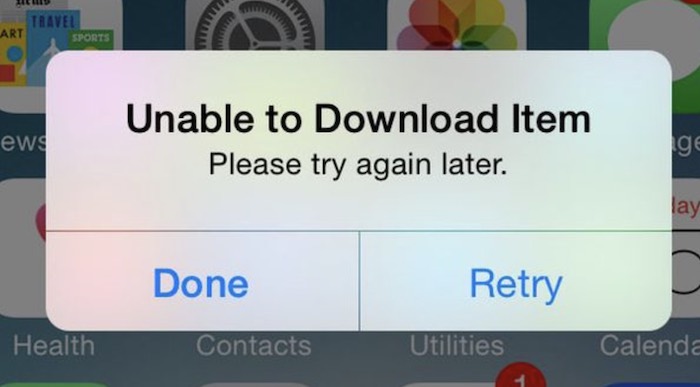 The message indicates that an item could not be downloaded. You may see this message even when you think you have not tried to download or update anything. In other words, this message may seem to appear even if there are no reasons for it to appear.
This message usually indicates that your iPhone or iPad were trying to automatically update an app, or there is an app on your device attempting to download something in the background.
This error message is annoying and strange. This article explains how you can fix this problem. Please try the following steps until this message no longer appears.
1. Airplane mode
When you see this message again, try these steps:
On your iPhone or iPad, open Control Center by swiping down from the top-right corner of your screen. And enable Airplane Mode. If you cannot open Control Center for some reason, you can use Siri to turn on Airplane Mode.
Tap the Done button to dismiss the popup message.
Then wait a few seconds and turn off Airplane Mode.
2. Update
This could be related to an update. Ensure that all of your apps are up to date. Furthermore, make sure that your iPhone or iPad is up to date, as iOS or iPadOS updates will help with compatibility with apps installed on your device. Here is how:
You can manually or automatically update your apps. If you want to update manually, open the App Store app and then tap your profile and tap Update All.
After updating your apps, go to Settings > General > Software Update to ensure that you are using the newest version of the iOS or iPadOS software. If there is an update, you can follow the onscreen instructions to update your device.
3. Restart
Restart your iPhone or iPad to see if this fixes your problem. You can restart your iPhone or iPad by following the steps below:
iPhone X and later and iPad without a Home button models:Press and hold the power button and the volume up (optionally you can use the volume down button too) together until the power off slider appears. Move the slider. Wait for your device to turn off, which takes around 30 seconds. Then press and hold the power button until the Apple logo appears.
Other iPhone and iPad models: Press and hold the side button (which is located either on the top or side of your device) until the power off slider appears. Drag the slider. Wait 30 seconds. Then press and hold the power button again to turn on your device.
Do you keep seeing the popup after restarting?
4. Turn off Background App Refresh
If you are seeing this download message, you may want to turn "Background App Refresh" off. By default, this feature is turned on. What this does is that, when this is enabled, your iPhone or iPad will check for new data in the background. You can do so by going to the "Settings" menu, tapping "General" and choosing "Background App Refresh" and then selecting "Off".
5. Clear the history and cookies from Safari
This step will ensure that there is no web app trying to download something. This involves deleting history, cache, and cookies in Settings. Here is how:
On your iPhone or iPad, go to Settings > Safari, and tap Clear History and Website Data. This will delete your history, cookies, and browsing data.
6. Reset network settings
Reset your network settings. When you reset the network settings, all of your Internet and networking data such as your Wi-Fi passwords will be erased. On your iPhone or iPad, go to Settings > General > Reset > Reset Network Settings and then follow the onscreen instructions.
See also: