How to Set your Mac to Use Different Network Connections: Wi-Fi, Ethernet, etc.
Did you know that your Mac can let you switch between multiple internet configurations. If you are using your Mac in multiple locations, such as at home and at work, you can set your Mac to use different networks, both wired and wireless, based on its location. For example, in your home, you may want your Mac to connect to your wired Ethernet connection, but at work, you may want to use a VPN connection. You may find this especially useful if you are an Apple notebook owner.
Set up locations on Mac
You can create as many locations as you would like. A location can be defined as a collection of network settings and preferences.
Add a new network location
On your Mac, go to System Preferences > Network.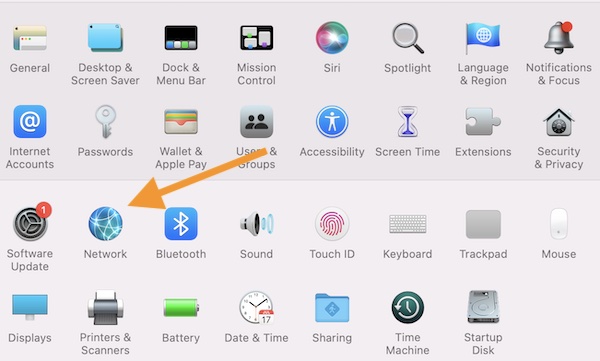 Open the Location drop-down menu and click Edit Locations. If this is the first time you open this setting, the default is "Automatic." I will explain this more below.
Click the Add (+) button. The new connection will be named Untitled by default. But you should change it. You can name it "Work," or "Office" or "Home," etc. In this example, I am creating a new location called "macReports.com Home". Click Done, and then click Apply.
Now you can make changes to this location. All changes will be saved to this location. Your "Automatic" location will not be affected by these changes.
What is the Automatic location?
When you open the Network settings, you will see a location called "Automatic." This was created by macOS as the default setting. Of course you can add more (see below). By default, the Automatic location has made all available ports active. Ports, also called network services, are used to connect to the Internet – like Wi-Fi or Ethernet. The name Automatic indicates that your Mac will search all active network ports for the Internet.
Make a connection priority
You can change the network service order. This order can be important. For example, your Mac will first try to connect to the Internet using the one at the top and if that is unsuccessful, it will go down the list until it connects successfully. Here is how you can change the order:
Open System Preferences > Network.
Select the Location you want to edit by opening the Location drop-down menu.
You will see the list of network services like Wi-Fi, Thunderbolt etc.
Click the More Options link, which is a round icon with three dots inside, and then select Set Service Order.
A new window will open.
Now you can drag a service up or down the list to change its priority.
When you are done click Ok, and then click Apply.
Modify your locations
Now that you have more than one location, you can disable a port from being used. You can do this when you do not want your Mac to use a particular network service. For example, you can disable Wi-Fi at work. Here is how:
Go to System Preferences > Network.
Choose the Location you want to edit, like your work location.
Select the service you wish to make inactive.
Click the More Options window.
Select Make Service Inactive.
Click Apply.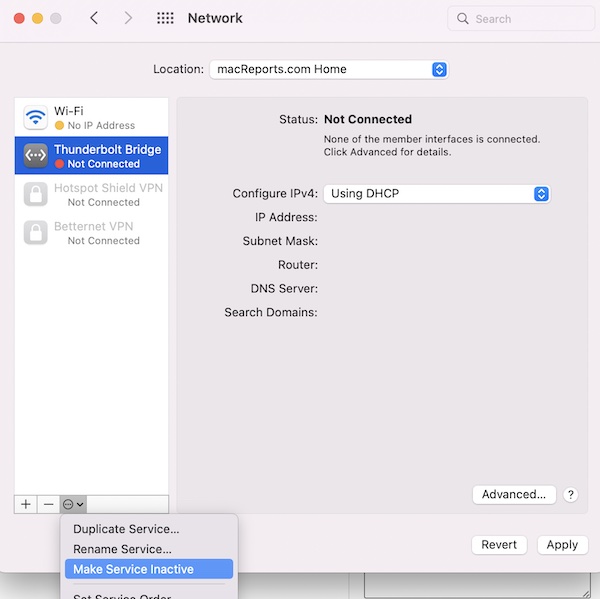 Switch between locations
After creating locations, like work, office, coffee, home, etc., you can switch between them easily. To do this, go to the Apple menu and select Location, then choose your location from the menu. Of course, you can also switch by going to System Preferences > Network.
Related articles: