How Accurate Is Find My? What the Research Says
The Find My app is a part of iCloud that enables you to track the locations of iPhones, iPads, Macs, Apple Watches, AirPods and AirTags. It used to be called Find My iPhone or Find My Friends, but now it is called Find My to indicate that it can be used with other Apple devices, also. The Find My app replaced Find My iPhone and Find My Friends.
A common question we often get is how accurately the Find My app shows the device or item location. It can be very critical that Find My locates your device so that you can find, lock or erase it in case your device is lost or stolen. Find My can be accessed via the app or the iCloud.com website. For this to work, you will need to turn on Find My and Location Services.
How accurate is Find My?
It depends on a lot of factors. Depending on the type of the device and other external factors, it can be very accurate or not accurate at all. For example, as you can see below, I have five devices located right here with me, but iCloud Find My shows them in different places: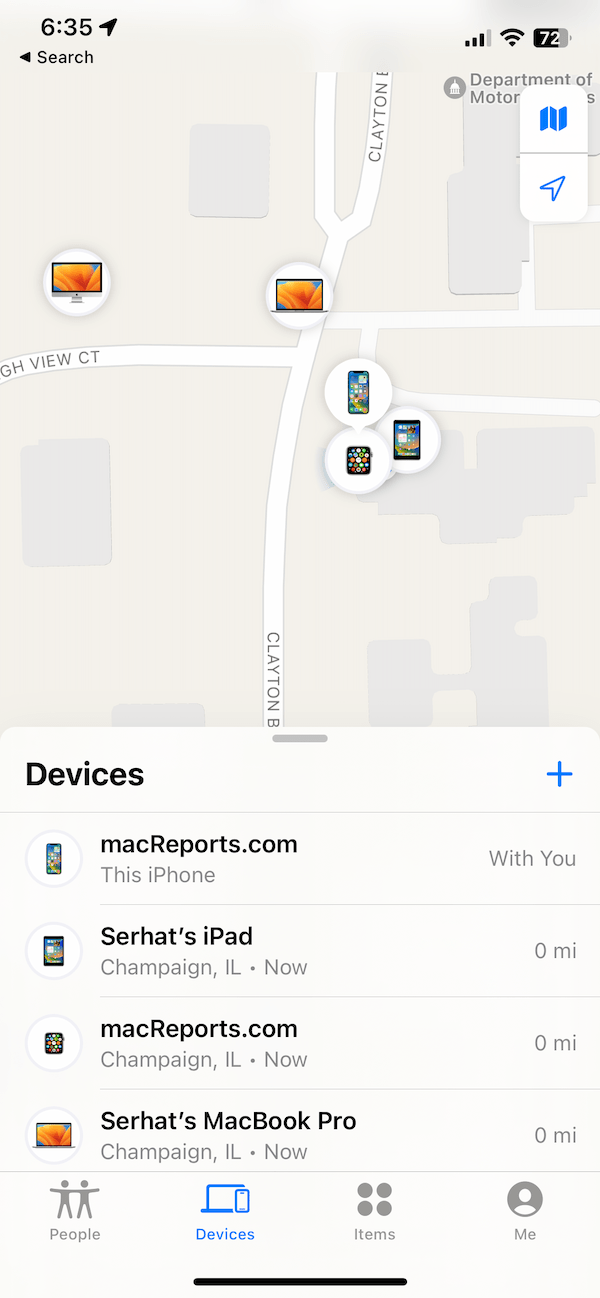 As you can also see, the accuracy of Find My is spotty. All five of my devices are all together and next to each other, but Find My shows two of them across the street.
With regard to the original question of the accuracy of Find My, it is difficult to provide a numeric answer. There are some scientific studies that attempted to answer this question. For example, a study done in 2009 showed that the accuracy of the location of the device within around 8 meters (around 26 feet). Two years later, another study also found similar results showing that the accuracy ranged from 5 to 8 meters (around 16 to 26 feet). The same year, another study also found that accuracy was within 10 meters (around 32 feet). Of course, we can say that these studies were done a long time ago, and there are probably a lot of improvements to this technology since then. A newer study in 2019 found the accuracy was between 7-13 meters (around 22 to 42 feet).
Why does Find My sometimes show devices in the wrong place?
A lot of factors can degrade the accuracy of Find My. Find My uses a combination of GPS, Wi-Fi, Bluetooth and cell towers. The accuracy with which it can pinpoint the location depends on many factors. Several factors may improve or worsen the accuracy, such as:
Poor cell signal
Availability of nearby cell towers
Weak GPS signals due to blockage, e.g., buildings may block GPS signals
Landscape characteristics, such as trees, mountains, etc.
Availability of Wi-Fi
Availability of other nearby Apple devices
Nearby Bluetooth devices
Radio interference
Atmospheric conditions affecting GPS
Find My is designed to work even if your device is offline or turned off.
Related articles