How to Fix Black Screen on Apple Watch
Your Apple Watch screen may go black, and this can be frustrating. If you experience this, you won't be able to use your Apple Watch because it will be unresponsive, and nothing will be displayed on the screen. The good news is that you can follow a few steps to get it working again.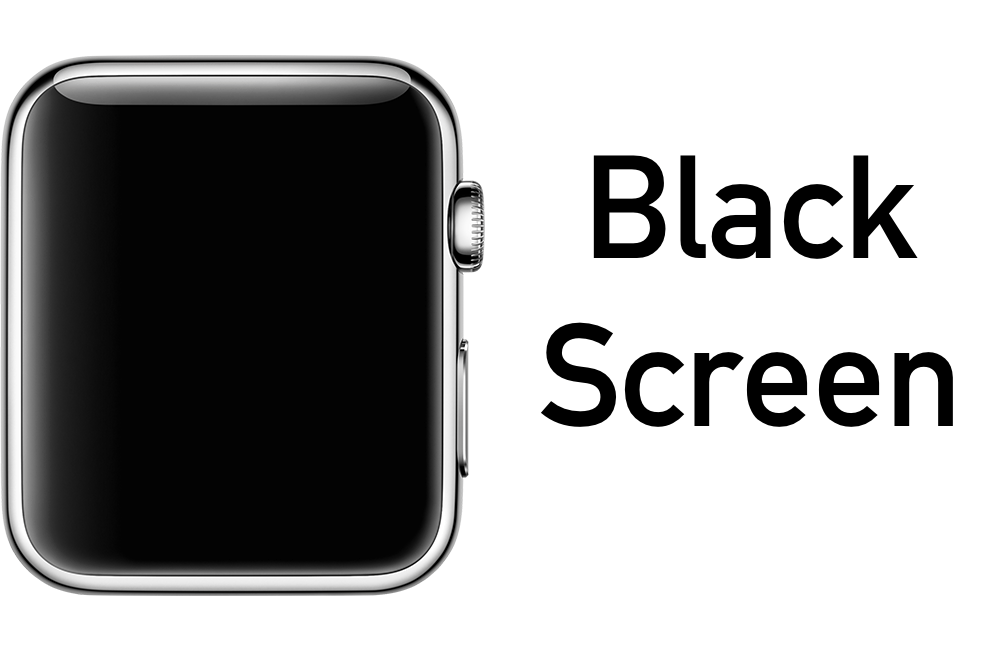 Black screen while your Apple Watch is on
Do you see a black screen while your watch is on and working? You can still tell if your watch is on even when the screen is black. For example:
You can feel the vibrations or haptic reactions.
You can hear the sounds when you receive notifications.
You can see the flashing lights on the back of your watch.
You can hear Siri.
If you see the black screen when your watch is powered on and functioning, there could be a few reasons for this. A common reason is the Screen Curtain feature. You may have knowingly or accidentally turned this on. Screen Curtain is a privacy feature that turns off the display so that your information will not be visible to others. Here is how you can check if this is on and how you can turn it off:
Open the Watch app on your iPhone.
Tap on My Watch at the bottom of the screen.
Go to Accessibility > VoiceOver > Screen Curtain. If Screen Curtain is enabled, turn it off.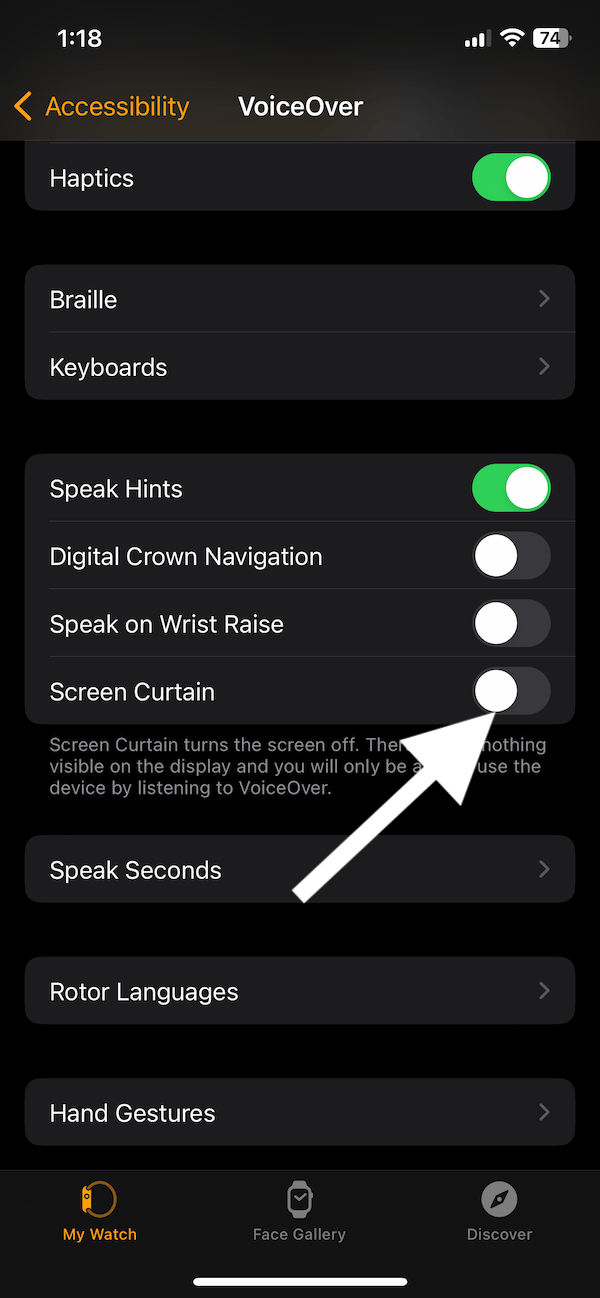 Black screen while your Apple Watch is off
If your Apple Watch is off, you will see a black screen. If your watch runs out of battery, it will be turned off by watchOS. If you are unable to turn on your watch, try these steps:
Ensure that you charge your Apple Watch. When you put the watch on the charger, it should come to life again. It is possible that your Watch is not charging when you connect to a power source. If your watch is charging, you will see a green lightning bolt icon on your screen. If your watch is not charging, there could be several reasons. This Apple documentation explains what you can do if you can't change your watch.
After charging your watch, your watch should turn on automatically. If you are still seeing the black screen, try the following:

Press and hold the side button to turn on.
If the side button does not turn on your device, try force starting your device. You can do that by pressing the Side button and Digital Crown together for around 10-20 seconds until the Apple logo appears.
Apple Watch blank screen issue
There is a known issue that affects some of the Apple Watch 6 models. Apple found that a limited number of series 6 models may have a blank screen problem caused by faulty hardware due to production issues. If you are affected, you can have your watch fixed free of charge. If you have an Apple Watch 6, you can determine if your watch is eligible by following the steps below:
Find your watch's serial number. You can find this on your watch, but since your screen is blank, open the Watch app and tap the My Watch tab, then go to General > About. Copy the serial number.
Open a browser and visit the service program page.
Enter the serial number and hit Submit.
If your Apple Watch is affected, you will need to make a Genius Bar appointment or take it to an Apple-authorized repair place to get it fixed.
Related articles