How To Disable Double Click To Install
iPhone and iPad models with Face ID may show this animated message saying "Double Click to Install" or "Double Click to Pay" when trying to make purchases, including apps and other purchases. You may see this when you want to use Face ID to install apps or games from the App Store or use Apple Pay to buy things.
See this article if Face ID is disabled.
A lot of users find this message confusing. Many users mistakenly think that this message means there is an onscreen button you need to tap twice. That is not the case. However, this message really means "Double Press the Side (or Top, if iPad) Button to Install or Pay". You have to double-click your device's side (or top) button to invoke Face ID.
Apple implemented this feature to prevent accidental downloads and purchases. This is to ensure that you verify your installs and purchases. By double pressing, you are basically saying "yes, I agree to this purchase". But there is a way to turn off the "Double Click to Install" message. This article explains how you can do that.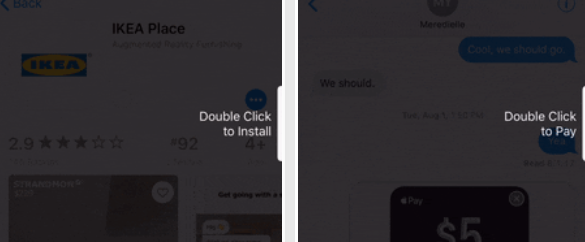 Double Click to Install
First of all, you cannot disable the need to verify your purchases. However, there is a way, instead of pressing the side or top button, you can instead enter your passcode to confirm purchases. This will essentially turn off Face ID for purchases.
Here is how you can enable this option.
There are two ways you can do this. They both basically do the same thing.
The first way is to change your Face ID settings. Here is how:
1. On your iPhone or iPad, tap Settings > Face ID & Passcode (enter your passcode if asked).
2. And then toggle off iTunes & App Store and Apple Pay. Now you will have to enter your Apple ID password when you want to buy an app.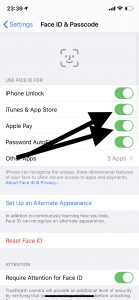 The other way is to change your accessibility settings.
1. On your iPhone or iPad, go to Settings > Accessibility.
2. Find the Physical and Motor section. And tap "Side Button" or "Top Button" for iPad.
3. And now toggle on "Use Passcode for Payments". Enabling this will let you use your passcode to make purchases instead of double-clicking the side button. Enter your passcode when asked. And this option will be enabled. Next time when you want to download a paid item, you will have to enter your Apple ID password.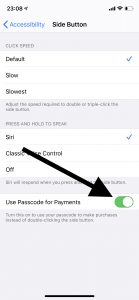 Please note that once you turn this on, this will also turn off two other settings on your iPhone.
See also: Face ID Unable To Set Up, Biometric Authentication Error, Fix
After you disable Face ID, you can adjust your password preferences by going to Settings > iTunes & App Store > Password Settings. You will see this option after you disable Face ID.
Can't double click to install?
Are you unable to install apps because Double Click to Install is not working? You can try the following tips to fix it:
Restart your device.
Force close the App Store app and then restart it.
Turn on Airplane Mode and wait about 30 seconds and then disable it.
On your device, go to Settings > Screen Time and check to see if the ability to install apps is not turned off.