How To Fix Slower Wi-Fi Problem On iOS 11
iOS 11 is Apple's latest operating system update as of now. The new iOS 11 update comes with a lot of new features, fixes and improvements, but  also, it has bugs, and other performance issues. One of the issues people are facing after updating their iPhone or iPad to iOS 11 is slow Wi-Fi problems.In fact, we are receiving complaints from a lot of iPhone and iPad users about poor Wi-Fi performance issues ever since upgrading/updating to iOS 11.
More specifically, a lot of users are complaining that these issues include:
speeds being very slow
dropping connection unexpectedly
It further seems that multiple iOS devices is affected by this Wi-Fi bug, including the iPhone 7 and 7 Plus, the iPad Air, the iPhone 6 and 6 Plus, iPhone 6s, and the iPad mini.
This is an important problem. We rely on Wi-Fi and these speed problems hurt us. If you are having this issues, this article lists some troubleshooting tips that you may try to fix it:
See also: Wi-Fi Problems
Turn off/on Wi-Fi
Turn off and on Wi-Fi. Go to Settings > Wi-Fi and turn off Wi-Fi and wait a few seconds and turn back on.
Turn off and on Wi-Fi assist
Go to Settings >Cellular and scroll down and disable Wi-Fi assist and wait a few seconds and turn on again.
Turn off Wi-Fi networking services
Go to Settings > Privacy > Location Services > System Services and disable Wi-Fi networking:
Restart everything
Your iOS device and your Internet router.
Force restart your device
Press and hold the Sleep/Wake (on/off button) button and the Home button together for at least ten seconds, until the screen goes blank and Apple logo appears. Note that this is also called Hard Reset.
Reset network settings
Reset Network Settings by going to General > Reset > Reset Network Settings. Note this this will remove your network settings such as your Wi-Fi password etc. So you will need to reenter them after this done.
Forget Network
Go to Settings > Wi-Fi > Your Wi-Fi Connection > (i) button and then tap Forget This Network. Then restart your device and reconnect your Wi-Fi by going to Settings > Wi-Fi and select your connection and enter your pass.
Set custom DNS
It may be that your Internet provider's DNS servers are down or having some connection issues. You may try Google DNS. Here is how you can do this:
Go to Settings > Wi-Fi
Find your Wi-Fi
Tap on the (i) button
Tap Configure DNS and select Manual
Tap add Server
Type 8.8.8.8, Google's DNS numbers.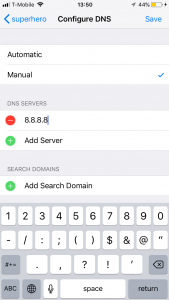 Tap Save
You can undo this by selecting Automatic, if you want to do so.
Update to the latest iOS 11 version
Apple has released software updates after the iOS 8 update (currently iOS 11.01), which may resolve issue with Wi-Fi performance. This is simple. Just go to Settings > General and Software Update.
See also:
Can't Join Hidden Wi-Fi Networks?
You are not alone. A lot of users have experienced these Wi-Fi problems after updating devices to iOS 11. However, If nothing described here works for you, you may want to contact Apple.