How To Turn Off Apple TV Notifications
This article explains how you can disable the Apple TV app notifications on your Apple TV, iOS Devices (iPhone, iPad) and Mac.
Some notifications are important that you may want to enable them. For example, if you turn off the Messages app notifications, you will not be notified when you receive text messages. This can be a big issue for many users because the notifications for incoming messages (text and iMessages) won't be displayed.
However, you may want to turn off some notifications because they can be distracting and unnecessary. Turning them off on iPhone and iPad will also help you save battery life.
One of those types of apps is the TV app. You may want to turn its notifications off. Sometimes, the TV app may push notifications even if you do not use the app. You may be shown promotional advertisement notifications. Even if you use the app, a lot of these notifications may be about the content that you do not want to watch.
If you do not receive these notifications from the TV app, then this article is for you.
See also: iPhone / iPad Text Sound Notifications Not Working? How to Fix
Turn off TV notifications on Apple TV
On your Apple TV, go to Settings > Apps > TV and find the Notification section and disable notifications.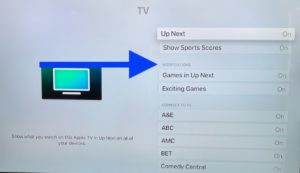 Turn off TV notifications on iPhone, iPad
On your iPhone or iPad, tap Settings > Notifications > and scroll down and find the TV app, and toggle off "Allow Notifications". This will disable all of the TV app notifications. You can, however, be a little selective. There are three types of notifications:
Up next
New features
Featured sports
You can enable or disable any of them based on your preferences.
See also: Notification Badge On The Phone App Won't Go Away? Fix
Turn off TV notifications on Mac
On your Mac, click the Apple menu > System Preferences > Notifications. And find the TV icon (left menu). Then click the "allow notifications from TV" button to turn this off.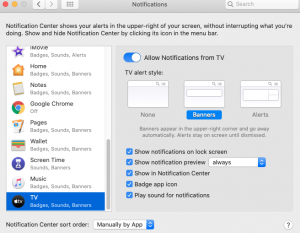 Some Mac users have said that the TV app on the Dock shows notifications even if the TV notifications are set to off. If you are experiencing this, try these:
Restart the Dock (see this article)
Remove the TV app from the dock and then re-add. You can remove from the Dock by right-click (or control-click) the app and then click Options and then select "Remove From Dock". To re-add the TV app, drag the app to the left side of the Dock.
See also: How To Turn Off Catalina Update Notifications (Prompts & Badges)