Apple Watch: Sign In To Complete Purchase, Fix
This article explains what you can do when your Apple Watch keeps showing the following message, frequently and unexpectedly:
Sign In to Complete Purchase. Enter the password for your Apple ID "[email protected]"
Does your Apple Watch keep asking you to enter your Apple ID password? Are you having this problem also? Does this notification message keep popping up on your watch? Then this article is for you.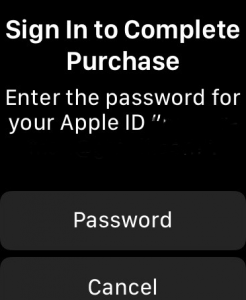 See also: How To Reset Apple Watch Password When You Forgot
Why are you getting this message
Do you recognize the email address in the error message? Is it an old Apple ID of yours that you do not use anymore? You are getting this message because you have installed apps on your watch using another Apple ID. This might be your previous Apple ID. Perhaps you changed your Apple ID at some point? And some of your Apple Watch apps are associated with your older Apple ID and some of your apps are purchased using your new, current, Apple ID. And thus, you are receiving this error message because the apps that are linked to your old Apple ID are causing your watch to generate this error message.
See also: Apple Watch Battery Life Problems, How To Fix
Fix Sign Into Complete Purchase Error
The first thing you can try is that you can enter the old, former Apple ID password if you still remember it. This may solve your problem easily. If you do not remember the password, or if this does not solve your problem, please try the steps below:
To fix this problem, follow the steps below:
1. On your iPhone, open the Watch app
2. Tap My Watch
3. Tap Settings > General and disable Automatic App Install by toggling the Automatic App Install switch off. (You can turn this back again later if you want)
4. Tap My Watch and find the Available Apps section (scroll down).
5. Do you see apps that are trying to install (apps that are showing you a circular progress bar)? These apps are causing this problem. Get rid of these apps by uninstalling them from your iPhone.
6. This error message will now disappear.
7. If you want, install the apps you deleted from your iPhone using your current Apple ID.
8. If you want, you can now turn on Automatic App Install by going to My Watch. When this is enabled, Apple Watch compatible apps on your iPhone will automatically be installed on your Apple Watch when they are installed on your iPhone.
See also: How To Install Apps On Older Devices Running Older Versions Of iOS