iPhone / iPad Text Sound Notifications Not Working? How to Fix
You may lose text sound notifications with incoming texts that alert you with a sound whenever you receive a text. This article explains what to do when your iPhone or iPad is not playing any sounds when you get a new message. If you're not getting sound alerts, you may not see the message or not be able to send a reply to it in a timely manner. This may create significant issues for you for sure. You may experience this with SMS messages and iMessages on all iPhone and iPad models. This issue may affect individual or group messages.
If iPad or iPhone notification sounds are not working, there are several steps listed below to fix the problem.
See also: Apple Watch Not Getting Notifications From iPhone, Fix
How to fix text sound alert problems
Before you do anything, make sure that you are using the latest version of iOS or iPadOS. On your device, go to Settings > General > Software Update. And if there is an update available, follow the onscreen instructions to update your device to the newest version. If updating does not help, follow the steps below:
1. Ensure that Notifications is enabled for Messages. Here is how you can check this:
Go to Settings > Notifications.
Scroll down and find Messages (apps are listed alphabetically).
Ensure that Allow Notifications is set to On. If not, turn on the switch.
Also, ensure that the Sounds setting is not set to None. Ensure a sound option is selected.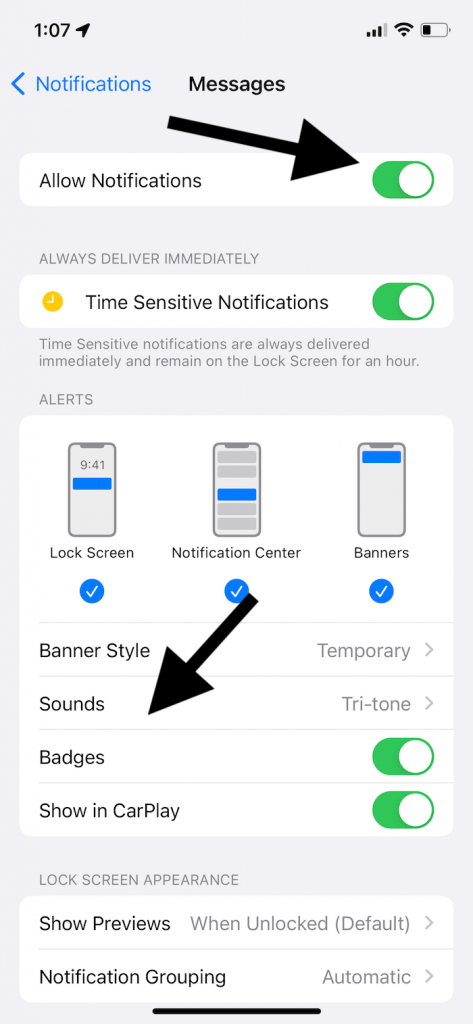 2. If you are not getting sound notifications from certain contacts or groups, ensure that Hide Alerts is not turned on for those contacts or groups. If Hide Alerts is turned on, notifications will be muted. Open Messages, check your individual or group conversations, and if, next to the conversation, you see a bell icon with a line through it, that means they are silenced, as shown in the screenshot below: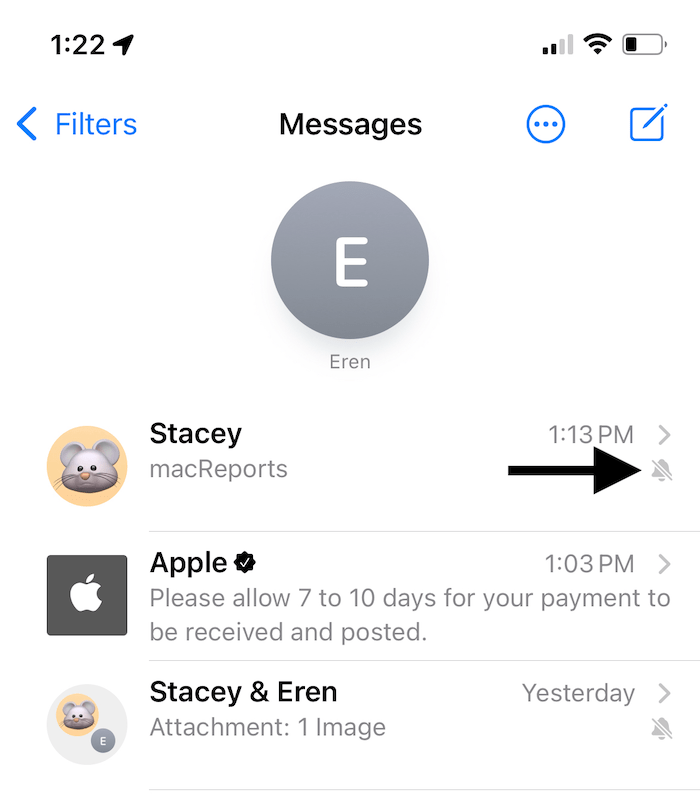 If you see the crossed-out bell icon, you need to unmute:
Swipe left across the conversation you wish to hear sounds from.
Tap the bell icon.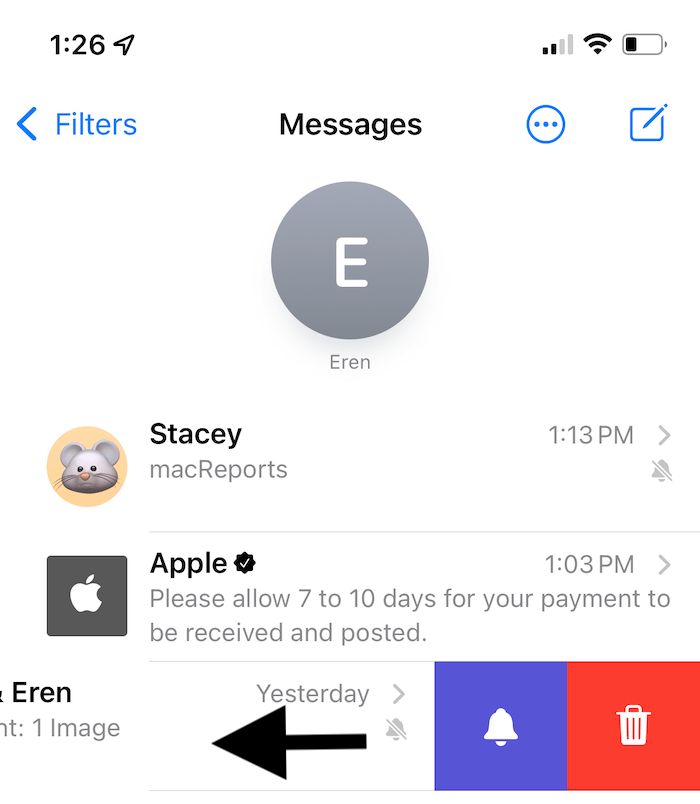 3. You may not be getting text notifications because Focus may be enabled on your iPhone or iPad. There are several Focus options like Do Not Disturb, Personal, or Sleep. Focus will silence your notifications. When it is enabled, your device won't make a sound. You can check this setting by going to Settings > Focus.
You can turn on Focus and still receive sound notifications by customizing your Focus options. For example, you can turn on Do Not Disturb and then allow notifications from certain people:
Go to Settings > Focus.
Select your Focus option.
Under the Allowed Notifications, tap People.
Tap Add Person.
Then you can add someone and you will get this person's notifications even when Focus is on.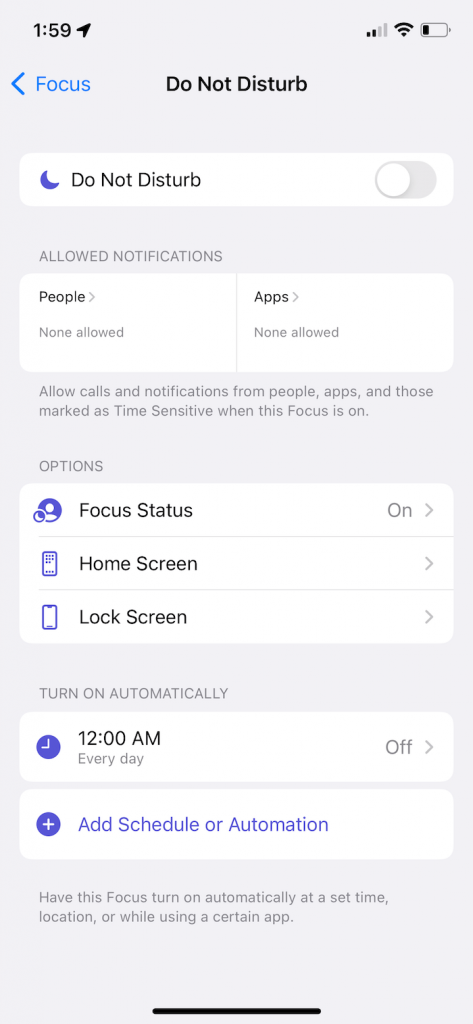 See also: Notifications Disappearing From Lock Screen? Fix
4. Ensure that your iPhone is not in Silent mode. Your device has a mute switch (ring or silent). On your iPhone, this switch is located on the left side of your device.
Make sure that mute isn't turned on by pushing the "Ring/Silent" switch to the "Ring" position.
5. Restart your device. Here is how you can restart your iPhone or iPad.
iPhone X, 11 or later and iPad without a Home button: Press and hold the volume up (or down) and the side or top buttons together until you see the power off slider. Drag the slider and wait for your device to turn off. Press and hold the side or top button until you see the Apple logo.
Other iPhone or iPad models: Press and hold the side or top button until the power off slider appears. Then drag the slider and wait for your device to turn off. Press and hold the side or top button until the Apple logo appears.
6. Do you also use an Apple Watch? If your iPhone is locked or sleeping while your watch is not locked with a passcode, the text notification will go to your watch, not your iPhone. If this is occurring, this is a normal behavior. We explained this more in this article: Text Message Notifications Not Working On iPhone When Paired With Apple Watch.
7. Try setting the sound alert temporarily to a different tone. On your iPhone or iPad, go to Settings > Notifications and select an app (e.g., Messages) and tap Sounds and select a different one. Follow these steps:
Go to Settings > Notifications > Messages > Sounds and select a different alert tone.
Restart your device.
Now go back to Settings > Notifications > Messages > Sounds and choose the tone you want.
8. Restart the Messages app. You can force the Messages app to close. Go to your Home Screen and swipe up from the bottom of your screen or press the home button twice if you have a Home button, find the Messages app and swipe up to close it. Then relaunch again.
If you do not see the contact names, see this article.
Related articles
Article history
This article was last updated on April 20, 2022.

New details were added. New screenshots were added.