Invalid Phone Number for Apple ID, Apple Pay
Some people have run into a problem when trying to create an Apple ID or trying to use Apple Pay. They get an error saying, "Invalid Phone Number. This phone number is invalid. Please enter a new number and try again," like in the screenshot below.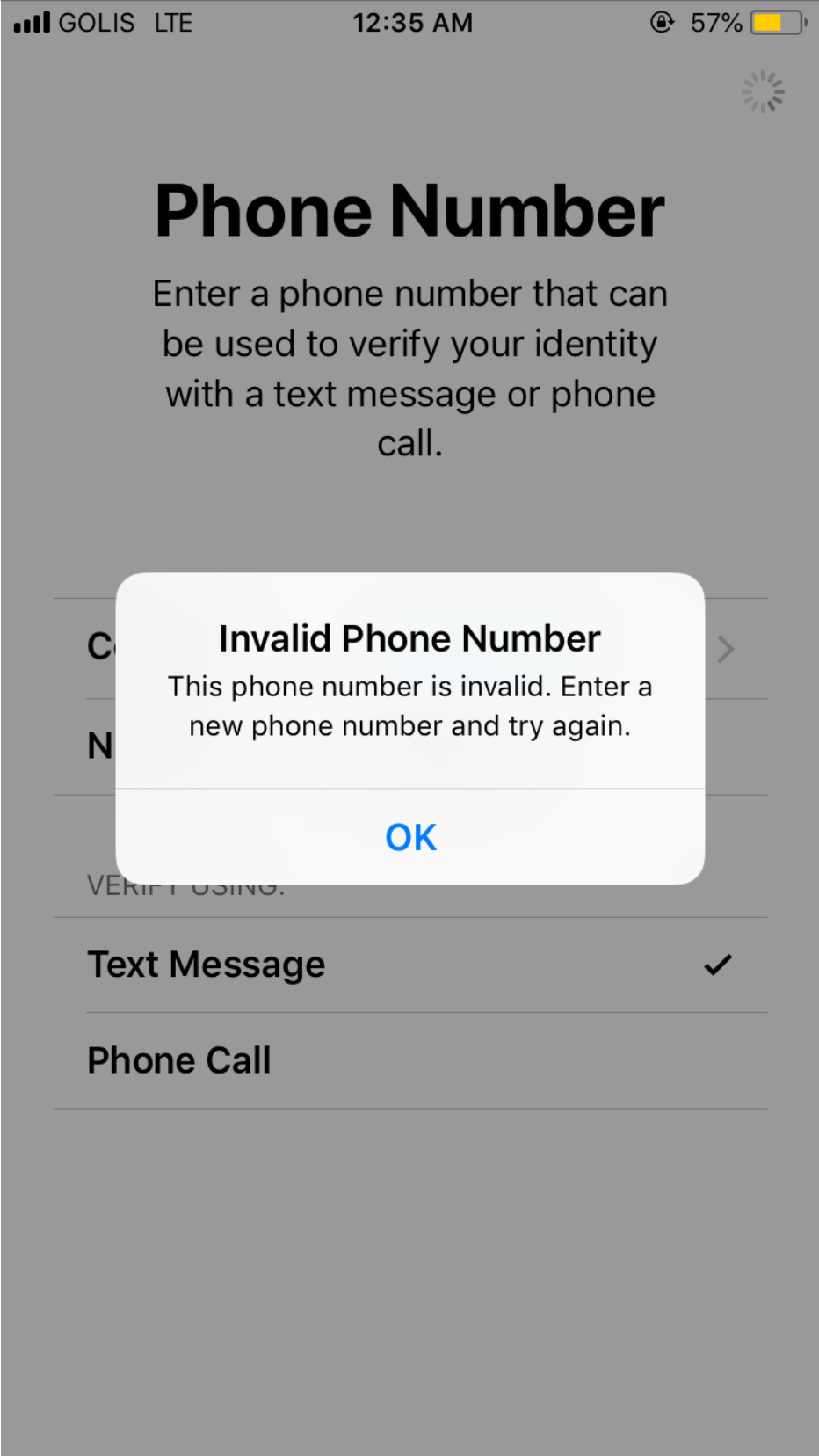 There are a few situations where someone may see this error message or a similar one:
When trying to create Apple ID
When trying to use Apple Pay
After entering a verification code for two-factor authentication
How to Fix "Invalid Phone Number"
Try the following until your problem has been resolved.
Check the phone number on your iPhone
Double-check the number you are entering:

Open Settings on your iPhone.
Scroll down and tap on Phone.
Your phone number is listed next to My Number.
Check the phone number for your Apple ID
Open Settings on your iPhone.
Tap on your Apple ID name at the top.
Tap on Name, Phone Numbers, Email. Check that the number is correct there.
For Apple Pay issues, check the default phone
Open Settings and tap on Wallet & Apple Pay.
Under Transaction Defaults, tap on Phone.
If you have a phone number listed there, make sure it matches exactly, including the '+' and country code.
When entering your number
Make sure not to have spaces.
Don't use the first zero for the country code. Check that the country code is there and is correct.
Update your iPhone
Go to Settings and tap on General. Then, tap on Software Update and install any available updates.
Restart your iPhone
Press and hold the Side button and one of the volume buttons until the power off slider appears. For iPhone SE, 6, 7 or 8, press and hold just the Side button until the slider appears.
Slide the slider, then wait for your iPhone to completely power off.
Hold the Side button until the Apple logo appears.
Update your carrier settings
Make sure you are connected to a Wi-Fi network.
Open Settings, then select General.
Tap About. If a popup appears with a carrier update, tap on Update. If there is no popup, there are no updates available.
If you receive "Invalid Phone Number" after entering 2FA code
Try getting the verification code sent to another device.
If the phone number is new
Wait and try again
If you just got the phone number, you might wait a day or two if possible.
Have someone call you to make sure the number is active.
Request a different number from the carrier
It is possible that someone had your phone number before. They may have created Apple IDs with the number or gotten put on some kind of spam list. These things could cause your phone number to be considered invalid.
Someone may have had the number previously and created an Apple ID with it, and then the carrier recycled the number.
You can get a new phone number from the carrier. If your phone number is new, it shouldn't make too much difference to you if you have to change it.
If the phone number is not new
Have you created other Apple IDs with the number?
Manage your Apple ID online
Go to appleid.apple.com to manage your Apple ID account.
If you still get the "Invalid Phone Number" error
There are two places that may be able to help you: Your carrier or Apple Support.
Contact your carrier (for a new number)
If you haven't yet, you should contact your carrier to see if there is anything they can do to check your phone number or give you a new one (if yours is new).
Contact Apple Support
If you have double-checked your phone number, tried again a couple of days later and can't get any help from your carrier, it is probably time to contact Apple Support.
If you already have an Apple ID, you may need to request an account recovery. The process can take a few days.
Related articles