How to Change Apple ID Phone Number
Your Apple ID is connected to a phone number. This number is very important. You should always ensure that this number is up to date. This phone number may get verification text messages that allow you to log in to various Apple services like iCloud, App Store and more. Furthermore, this phone number may be used to verify your identity when you need to recover your account.
Your phone number will be used for two-factor authentication. Your Apple ID phone number may get a verification code when you sign in on a new device or browser. This phone number is called your trusted phone number.
You can update this phone number. If you have changed your phone number, you should add this number to your Apple ID and remove the old number. There are multiple ways to do this.
You should note that you can have multiple Apple IDs, and you can use the same number for each account.
Change your Apple ID number using the Apple ID site
Open a browser and visit the Apple ID page.
From the left sidebar menu, click Sign-In and Security.
You will be shown your current trusted phone number. We will change this.
First, we will add a new phone number. Click the plus (+) button to add.
A new popup will appear saying, "Add a trusted phone number." Choose a country and then the new phone number. This number will need to be verified to ensure it belongs to you. Select Text Message or Phone Call, depending on your preferred verification method. Then click Continue.
You may be asked to enter your Apple ID password again for extra security.
Then the new number will receive a message or call, depending on your choice. I picked the Text Message option. You will need to enter the verification code on the next screen and then click Continue.
After successfully verifying the new number, it will be added to your Trusted Numbers. Now you can remove the old one by clicking the minus (–) button. If you no longer use it, make sure to remove it from your account.
You will also receive an email from Apple confirming that your Apple ID information has been updated.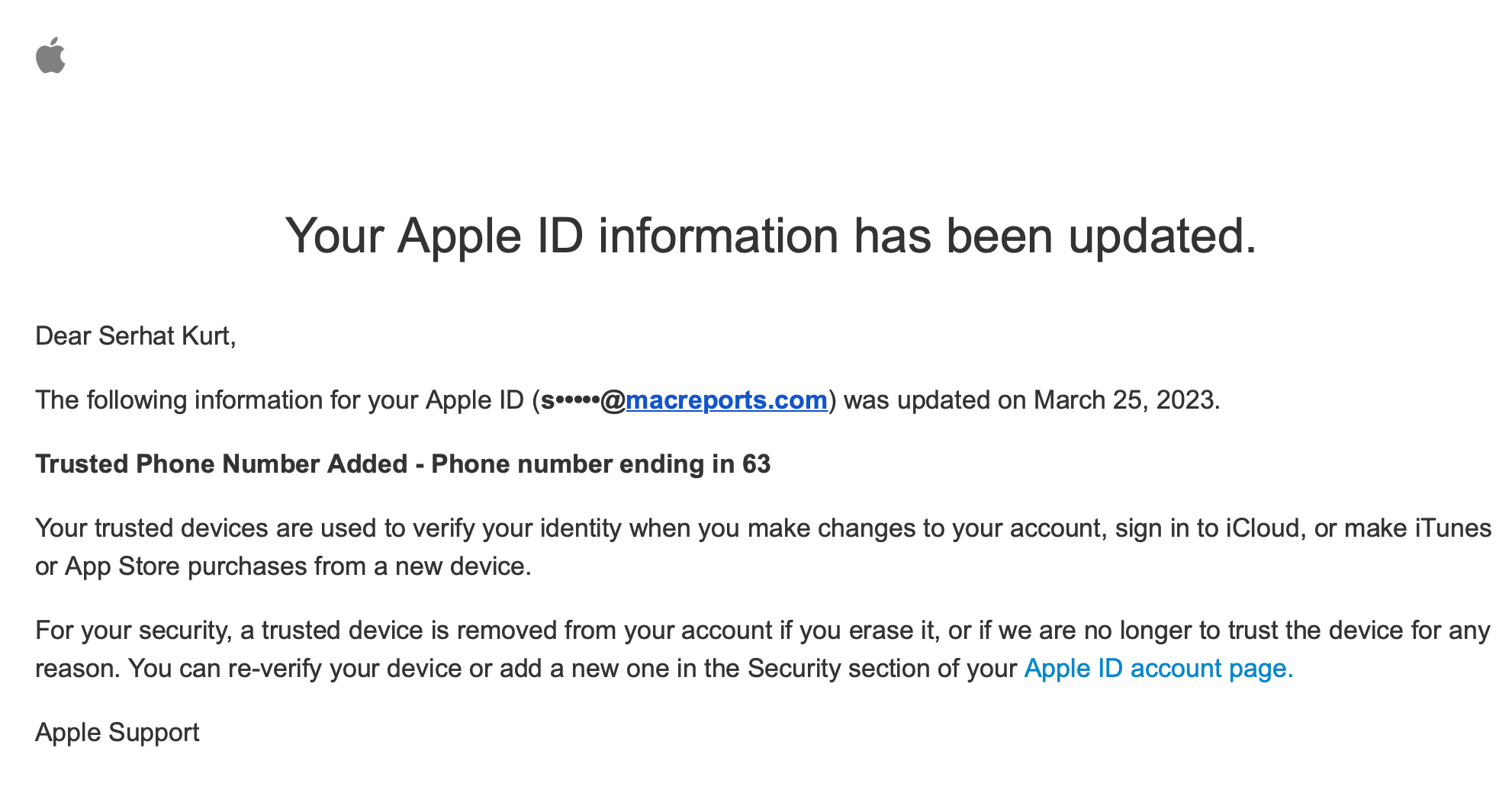 You should also note that it is possible that your new phone may be verified without receiving the verification code. Sometimes, Apple may be able to verify the new number in the background automatically.
Lastly, if the new number was added as a contact phone number for the Messages app, the verification code won't be sent, and thus, you won't need to verify it.
Related articles