Last Line No Longer Available Error on iPhone, Fix
Some iPhone users have said that they keep seeing an error message saying "Last line no longer available. Do you want to call using your remaining line?" (see the screenshot below). A message saying "last used:"" (unavailable)" also appears under the contact name. This message appears when a user wants to make a call from the Recent call list or the Contacts app.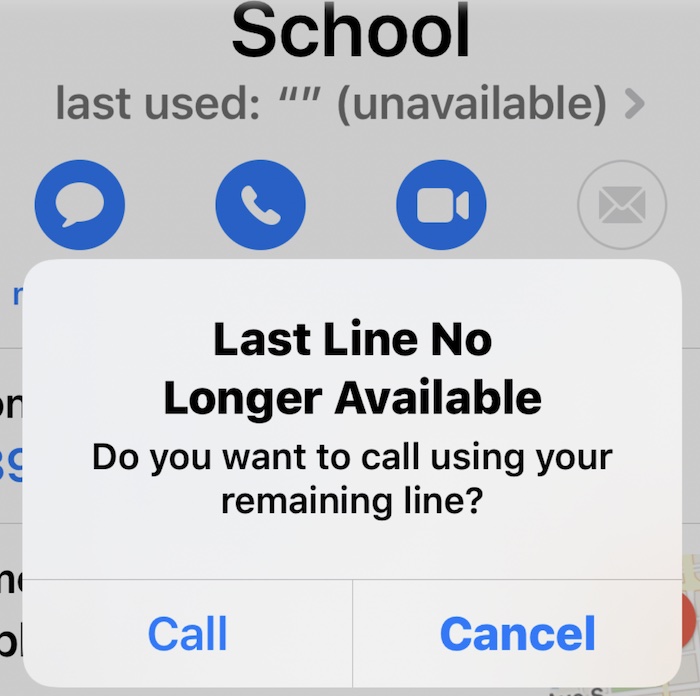 The error message includes two options: Call and Cancel. Some said that when they tap the Call option, they could successfully make the call.
I think that this issue is linked to the Dual SIM feature. If you have an iPhone that supports eSIM, you can use Dual SIM. This means that this problem affects these iPhone models, as of now:
iPhone XS, iPhone XS Max, iPhone XR
iPhone 12, iPhone 12 mini, iPhone 12 Pro, or iPhone 12 Pro Max
iPhone 13 Pro Max, iPhone 13 Pro, iPhone 13, and iPhone 13 mini
You may wonder why you are getting this error message. You may also wonder how you can fix it. In this article, I list several tips to address this problem.
Basic steps for the Last Line No Longer Available error
I recommend that you try these basic steps first. You should try these in this order. After trying each step test to see your issue is fixed:
On your iPhone, turn on Airplane Mode and wait a few seconds and then turn it off.
Try clearing your Recents list. Some users have told me that this is how they fixed this issue. On your iPhone, open the Phone app, and tap Recents and tap Edit and Clear then Clear All Recents.
Restart your iPhone and then try to place a call.
Update your carrier settings, if there is an update. You can check for updates by going to Settings > General > About. A popup will appear if there is an update. Follow the onscreen instructions.
Ensure that your iPhone has the newest version of the iOS software. You can check for updates by going to Settings > General > Software Update. Update may help you if a bug is causing this problem for you.
If your iPhone has a physical nano-SIM card, remove the SIM card, put it back in. How to remove the SIM card is easy. Apple's documentation explains it here: support.apple.com/en-us/HT201337
Reset network settings to fix the Last Line No Longer error
Resetting your network settings may fix this problem. You should note that all of your network related settings and preferences will be erased. This includes:
Your Wi-Fi preferences and settings such as your passwords.
Your Bluetooth connection settings.
Your VPN configurations.
You should also note that this does not delete your content like your photos etc.
Go to Settings > General > Transfer or Reset iPhone > Reset and then tap Reset Network Settings. Follow the onscreen instructions to complete the reset process. Your iPhone will restart and then test to see if you see this error or not.
If you still see the error, this means that you should contact your carrier (Verizon, T-mobile etc). You may also want to contact Apple. You can contact Apple using its live chat support option.
See also: