How To Upload Videos To YouTube From iPhone or iPad
This article explains how you can upload your videos to YouTube directly from your iPhone or iPad. This article also includes some basic techniques to edit your videos (adding filters, trimming, etc).
It seems that new iOS versions removed the Share option for YouTube in the Photos app that allowed users to send it directly from the iOS devices. But that option is gone. But still, it is very easy to do so.
Uploading videos to YouTube is free.
See also: YouTube Not Playing in the Background on iPhone or iPad? Fix
Here is how:
Upload videos to YouTube (iOS)
Before we start, there are two things that we should mention:
You need to download and install the YouTube iOS app on your iPhone or iPad, (download link) and
By using the YouTube app, you can record new videos and upload or you can upload your existing videos that you recorded using the built-in Camera app on your device.
Now you can upload videos to YouTube from your device. Follow the steps below:
1. Download the YouTube app, if you have not already. Go to App Store to do that.
2. Open the YouTube app and sign in by tapping Account (top-right corner).
3. Tap the Camera icon
4. If you are asked, allow YouTube to access your camera and photos.
5. You will see three options to select: Record, Go Live and your existing videos.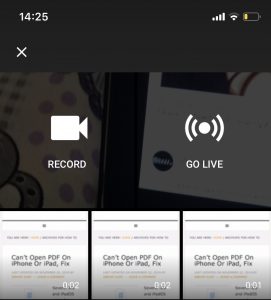 6. Select a video (or tap Record), you will be presented with enhancements options that include:
Trim your video: You can trim your video. Trim your video to the perfect length, if you want to. You may especially trim your video if your video is longer than 15 minutes if your account is unverified. Only verified accounts can upload videos longer than 15 minutes. You can also trim your videos in the Photos app.
You can add music to your video by tapping the music icon.
You can apply different filters by tapping the filter/magic icon.
Please note that applying these enhancements is optional. You can upload your video without editing.
When you are done, tap Done.
See also: How To Share Photos, Videos, Or Voice Messages in Messages
7. Now add a title and a description. Your title should be descriptive, accurately reflect the nature of the video. Your title can have max 100 characters. You can also add a description. The description can have max 5,000 characters.
You will also notice that there are some privacy options:
Public: anyone can view the video
Unlisted: the video will not be listed or shown in search results. But anyone can watch it with its URL.
Private: only you can view it.
Select one. When you are done, tap Upload.
Your video will start uploading. Once it is done, the video will appear in your Videos list.
As stated above, you may not upload videos that are longer than 15 minutes unless you verify your account. To verify your account:
On your iPhone, iPad or Mac, open Safari (or any other web browser)
And follow the on-screen instructions.
If you do not know if your account is verified, go to http://www.youtube.com/account_features, it will say Verified if your account is verified.
Once your account is verified, you can now upload videos that are up to 128 GB or 12 hours.
See also: How To Remove Location Data When You Share Photos and Videos